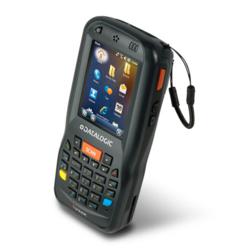 "Datalogic wanted to create a PDA that went beyond traditional data capture, something that could empower workers, sales people and retail managers to improve their job experience," commented Francesco Montanari, VP/GM
Eugene, OR, USA (PRWEB) November 29, 2012
Datalogic ADC announces the Lynx™ PDA, a compact and ergonomic device that empowers the work force to perform applications in the store and in the field with enhanced agility.
The new Lynx PDA is the perfect companion for sales representatives and retail managers. This mobile computer that fits in a pocket provides a 2.7 inch display powered by a new technology that improves readability indoors and outdoors. The ergonomic shape of the Lynx PDA makes it so comfortable in the hand that it seems like a natural extension of it, while its IP54 particulate and water sealing rating guarantees high performance even for use in inclement weather. The Lynx PDA is built to last.
The term all-inclusive best describes the Lynx PDA. This compact device incorporates a GPS navigation system, a phone, a camera, a computer and a bar code collector all in one handheld device. From the assisted GPS, which also includes Skyhook's Core Engine hybrid positioning system, to its 3 Megapixel camera with built-in flash and its unmatched wireless communications, the Lynx PDA covers all bases. With this device, the workforce has everything needed to perform any job in the Retail, Manufacturing, and Transportation & Logistics industries fast and easily.
The four radios and internal antennas in the Lynx PDA guarantee quick and secure communications anywhere inside and outside the four walls. A 3G/4G HSPA+ module provides real time communication, while the Summit IEEE 802.11 b/g/n radio offers the highest level of security thanks to Cisco certified wireless communications (CCX V4). The Lynx PDA guarantees enhanced flexibility for any infrastructure, speeding up data transfer considerably.
Finally, Bluetooth® wireless technology removes the need for cables and allows reports to be distributed in no time.
The data capture capabilities of the Lynx PDA set it apart from the rest. The user can choose between a 1D laser scanner, for fast and precise reading in scan intensive applications, and a state-of-the-art 2D bar code imager, enabling intuitive data capture of 1D or 2D bar codes. The Lynx PDA also offers two different keyboards. The numeric keyboard maximizes key size for rapid data entry, while the QWERTY backlit keyboard is designed for applications requiring text entry. The use of these universally known layouts reduces training costs and improves efficiency.
The workforce can also count on a mobile computer that is ready to use out-of-the-box with the Lynx PDA. The battery, micro USB cable for data transfer and direct power supply with plugs for all regions come together in one box. All the equipment needed to start working with the PDA is there.
"Datalogic wanted to create a PDA that went beyond traditional data capture, something that could empower workers, sales people and retail managers to improve their job experience, while increasing speed and efficiency. The Lynx PDA presents the perfect combination of technology, robustness and ergonomics to make jobs simple and intuitive even in the harshest conditions," commented Francesco Montanari, Vice President and General Manager, Mobile Computing, Datalogic ADC.
Datalogic ADC, the world leader in Automatic Data Capture, offers state of the art solutions with fixed position retail scanners, handheld scanners and mobile computers. Datalogic ADC's range includes in-counter and on-counter point of sale scanners, general purpose and ruggedized handheld scanners, rugged mobile computers, industrial PDAs and vehicle mount computers. Solutions for applications in several sectors include healthcare, hospitality/entertainment, manufacturing, retail, services and transportation & logistics.
Businesses in the retail sector can particularly benefit from Datalogic ADC's vision-based technology solutions, analytical tools, self-shopping solutions and consumer relationship technologies.
A division of the Datalogic Group, Datalogic ADC is headquartered in the US with a presence in over 120 countries.
For more news and information on Datalogic ADC, please visit http://www.adc.datalogic.com.
Datalogic Group is a global leader in Automatic Identification with a specific focus on the Automatic Data Capture and Industrial Automation sectors. As a world-class total solutions provider and producer of bar code readers, data collection mobile computer and vision systems, Datalogic offers innovative solutions for a full range of applications in the manufacturing, retail, healthcare and transportation & logistics industries. Datalogic S.p.A., listed on the STAR segment of the Italian Stock Exchange since 2001 as DAL.MI, is headquartered in Lippo di Calderara di Reno (Bologna). The Group's recent acquisition of Accu-Sort Systems Inc., a leading supplier of Automatic Identification products and solutions in the United States, has doubled its presence in the Industrial Automation market, escalating Datalogic to undisputed leadership in the Industrial Bar Code Scanners segment with a market share of 31%. Datalogic Group as of today employs more than 2,400 members of staff worldwide, distributed in 30 countries across Europe, the Americas and the Asia Pacific region. In 2011 Datalogic Group achieved revenues for 425,5 million Euro and invested over 26 million Euro in Research and Development with a portfolio of over 1,000 patents across the world.
For more news and information on Datalogic, please visit http://www.datalogic.com.
Datalogic and the Datalogic logo are registered trademarks of Datalogic S.p.A. in many countries, including the U.S.A. and the E.U. and Datalogic ADC and the Datalogic Automatic Data Capture logo are trademarks of Datalogic S.p.A. Lynx is a trademark of Datalogic ADC S.r.l.
Datalogic ADC - e-mail: pr(at)datalogic.com, http://www.adc.datalogic.com
Diane Massoni – Press Office