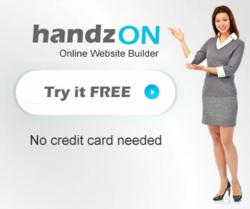 Handzon makes building a web form or online survey efficient
San Francisco CA (PRWEB) November 29, 2012
Handzon, the online website builder application, has now simplified the process of creating a web site form with no HTML required. Now, every web site account has the advanced form builder as part of its free standard service. Users will now be able to create custom forms with multiple form fields, custom thank you pages and auto responders.
In addition, form feels can now have validation to ensure that the web site visitor fills out valid phone numbers and e-mail addresses. This ensures that required fields within the form are filled out correctly eliminating the possibility of incorrect contact information.
Through the use of our web site forms, users can now extend their services and gather information about their visitors. This gives an alternative to standard paper forms, however, handzon forms can easily be printed so users can fill out information and fax if needed. With the Handzon web input forms, web site owners will now be able to respond quickly to customer requests because all data is gathered electronically.
Handzon has created a simple form editing process in which the website owner can easily add unlimited form fields, check boxes, drop down selections, comment boxes, multiple choice fields and custom submit buttons for each form created.
Creating a value added Web survey or questionnaire for any website is now a standard feature with the Handzon Online Website Builder.
About Handzon
Handzon web site builder service was launched in 2001 as one of the very first web site builders available online. Today's version allows users to create HTML 5 web sites with no HTML required. Advanced users have access to HTML and CSS if needed to allow further customization. Along with a free version, Handzon also offers premium packages to include unlimited pages, unlimited hosting and a word press Blog.