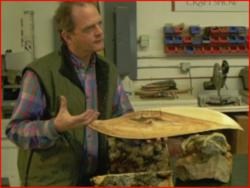 Small is beautiful.
Brandon, Minnesota (PRWEB) November 29, 2012
Since it first started airing in 2010, Lakes Country Living has focused viewers' attention on stories of small and highly unique businesses. According to producer and host Steve Henning, there are two main criteria to be considered for the show - a business must be too small to advertise, and it must have a product or service note-worthy enough to make it a destination. Location in a community of less than 500 could be worth a bonus point.
Some of the businesses profiled on the show include: Falls Baking Company, an artisan bakery; Ruby's City Restaurant, a quintessential midwestern small town cafe; Nelson's Store, the largest retailer of lutefisk in western Minnesota; Forest Edge Gallery, a beautiful art showcase on a scenic country lane; Forest Edge Winery, an award-winning winery on a scenic byway; Harvest Thyme Bistro, a main street restaurant with a local foods menu; Jacobs Lefse Bakeri, a Scandinavian-style bakery, and Just Like Grandma's, a tea room and gift shop – to name just a few.
To reiterate the importance of the local economy, Henning has included cameo interviews with economic experts in a series of short filler segments titled "Keep It Local." For example, Jason Murray, Executive Director of Alexandria Area Economic Development Commission, explains the concept of recirculating dollars through local spending. In another interview Nancy Straw, Executive Director of West Central Initiative, emphasizes the importance of keeping local businesses in the black.
A recent trend in economic development is to encourage cultural-heritage tourism, and the arts as an asset in the local economy. Lakes Country Living profiles artists, taking viewers behind the scenes like it would for a Main Street business. "One thing a lot of people forget" Henning points out, "is that artists are small businesses, too. But as individuals, they are just one or two people." A successful artist, Henning understands marketing is both a very big need and a very big weakness for many working in the arts, and uses television and online video to help artists educate the audience about what goes into a particular work of art – whether it be visual art, music or literature. "With understanding comes perceived value" he points out.
Jay McDougall, a wood sculptor, has latched onto the concept behind Henning's television show with much success. In addition to television exposure, the YouTube version of his story has gone viral, gaining hundreds of new followers every month. "A vital component in this business of creating and selling art is marketing. To create a uniquely outstanding piece of art is one half of the success formula," McDougall points out. "The equation is completed with the sale of that piece. Getting my work in front of potential customers takes many forms. I have had the good fortune to have my work featured on Lakes Country Living. As an accomplished visual artist, Steve was able to tell my story from the inside out. I'm stunned and humbled by the number of times my segment has been viewed by people worldwide. The world is a big market."
Another huge category of small business is the farm. Following his formula for selecting stories, Henning focuses on destination farms – those producing a unique crop, offering a fun visitor experience, or producing an alternative crop that significantly adds to the local economy. "Farm businesses like Bluebird Gardens make for great television" he is quick to point out. "They demonstrate another type of entrepreneurship."
Now in its third season, Henning sees a growing opportunity for Lakes Country Living to sing the praises of small rural businesses. "There's no shortage of good material" Henning claims. A letterpress operation, still using hand-set type; a new grocery store with an all-organic inventory and in-house gluten-free bakery; a wine shop in the back of a convenience store, offering in-store wine-making – are currently in production. Future stories include an entire show dedicated to businesses recovering from catastrophic fires - "Main Street" businesses like a meat market and a flour mill. Rural America is rich with entrepreneurs, each with an inspiring story waiting to be told. "Small is beautiful" quips Henning.
Lakes Country Living is a half-hour made-for-cable video magazine featuring stories of outstate Minnesota. Hosted by nationally acclaimed landscape painter Stephen Henning, the show's topics usually include the arts, agriculture, Main Street entrepreneurs, local history, natural resources and outdoor recreation. Particular attention is given to conveying local flavor. More information is available online at http://www.lakescountry.tv.