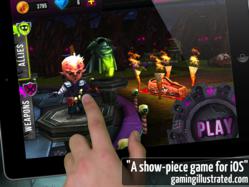 "Brainz is an incredibly unique studio that combines amazing graphics, humor, and smart game play. We can't wait to share our technology and best practices with them..." said Eros Resmini, SVP of Developer Relations and Marketing
Bogota, Colombia (PRWEB) November 29, 2012
Latin American studio Brainz today announced that Vampire Season-Monster Defense, a deluxe supped up version of the original game that reviewers and users alike have come to love, will be launching on GREE Platform.
"I think we got ourselves on the radar with the soft launch of Vampire Season earlier this year. We were pleasantly surprised with so many positive reviews, yet we knew we had room to improve," said Alejandro Gonzalez, CEO of Brainz. "Working very closely with GREE over the past several weeks, we overhauled the game and developed a better, more immersive experience without losing what made it special in the first place."
Vampire Season-Monster Defense has smoking new graphics and is more challenging than the previous version. Levels have been rebuilt, there is a new economy that includes dual currencies (coins and sapphires), a new feature that enables pinch zooming the camera angles, as well as other surprises that extend game play including a Horror Roulette in survival mode.
"Brainz is an incredibly unique studio that combines amazing graphics, humor, and smart game play. We can't wait to share our technology and best practices with them to take them to the next level," said Eros Resmini, SVP of Developer Relations and Marketing, GREE International, Inc. "It's a great pleasure to be working with such a talented studio and introduce their content to GREE's global audience."
Widely praised for its innovative approach to tower defense and use of humor, Vampire Season-Monster Defense turns traditional definitions of good and evil on its head. Players must defend Count Dracula from the forces of good through multiple levels. There are many ways to dispatch Dracula's attackers, including an ample menagerie of monsters and items such as Werewolves with bunny slippers, Zombies, Disco Balls, "Nucular" Pumpkins, and Headless Horsemen, amongst others.
Vampire Season-Monster Defense is now available on iOS and will be launching both the Android and iOS versions on GREE Platform in the following weeks.
About Brainz
Brainz is a next-generation entertainment company focusing on developing original, story-driven IPs through mobile games with superb production values. Its first title, Vampire Season-Monster Defense was released in the summer of 2012 to critical acclaim globally. Brainz is part of ZIO, one of Latin America's top 3D animation and digital media studios with staff of 60+ in Bogota, Colombia. The company has received US$2.1M in angel and VC funding.
http://www.brainz.co
About GREE, Inc.
GREE is a global mobile social gaming company at the forefront of mobile technology. GREE is focused on building the world's leading mobile social gaming ecosystem for users and developers, while creating and supporting unique free-to-play game content. GREE is continuing to expand globally and has offices in Tokyo, San Francisco, London, Singapore, Seoul, Beijing, Amsterdam, Dubai, Sao Paolo, and Vancouver.
http://gree-corp.com