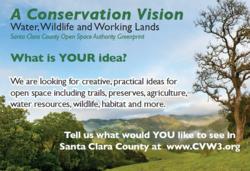 "We need to be creative and strategic about prioritizing land protection," said Andrea Mackenzie, the Open Space Authority's general manager. "We invite the community to help us design livable communities and a sustainable future in Santa Clara County."
San Jose CA (PRWEB) November 29, 2012
Twenty years ago, a group of dedicated residents was determined to protect significant tracts of land throughout Santa Clara County to ensure a more balanced approach to growth in the region. Their efforts led to the creation of the Open Space Authority by the California Legislature in 1993.
These successful grassroots efforts and the vision to carry them forward for the next 20 to 30 years will be the focus of an Open Space Authority public workshop from 6-8 p.m., Wednesday, Dec. 5 at the Campbell Community Center; 1 W. Campbell Ave. Attendees can register for the meeting at http://conservationvision.eventbrite.com.
The workshop will mark the beginning of the Authority's "Conservation Vision"—a science-based research and outreach process that will identify critical areas and comprehensive strategies for land conservation to protect water resources, wildlife habitat and sustain working farms and ranch lands. The vision will also highlight key aspects of land and resource conservation for economic stability, climate adaptation, recreation and community health.
"We need to be creative and strategic about prioritizing land protection," said Andrea Mackenzie, the Open Space Authority's general manager. "We invite the community to help us design livable communities and a sustainable future in Santa Clara County."
Matt Freeman, the Authority's assistant general manager who is directing the Conservation Vision process, said the Dec. 5th meeting will be the first of several opportunities for the public to contribute their ideas and preferences to help establish conservation and outdoor recreational priorities.
Freeman pointed out that an important component to the Conservation Vision is a unique, highly interactive website that enhances public dialogue about topics such as urban open space, biodiversity and water resources. The site allows visitors to provide input and map their ideas about potential open space lands, preserves and projects. Visitors earn rewards for their participation including private, guided hikes; overnight camping on open space land and an environmental science program for an elementary school, among others.
In the winter of 2013, the Authority will release a comprehensive report to the public that outlines the recommendations and results of the Conservation Vision process.