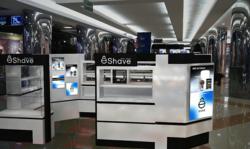 eShave opens its first international eShave New York concept stores in Yekaterinburg, Russia with plans to have 10 locations throughout the country by the end of 2013.
New York, New York (PRWEB) November 29, 2012
Renowned for its contemporary products and accessories that combine luxury, modern aesthetics and quality with expert knowledge and craftsmanship, eShave has revolutionized the way men have been shaving since 1996. Today, eShave is proud to announce the opening of two new eShave New York kiosk stores in Yekaterinburg, the 3rd largest city in Russia. These are the first international locations for the brand's concept store.
eShave has partnered with Regency Ventures to roll-out eShave New York in Russia with plans to have 10 locations throughout the country by the end of 2013. "Regency Ventures is the first distributor with rights to our brand name. They agree with our service-oriented vision and we trust that they will uphold our company's core values and philosophy," said Danielle Malka, President/Founder of eShave. "We're thrilled about the expansion of our brand and are happy about introducing it to the people of Russia. This is an emerging market with brand conscious consumers that will appreciate the craftsmanship of our accessories and quality of our products. We are very excited about the opportunity to bring our concept store to them."
The two new kiosk stores will open just in time for the holidays and will be located in Alatir shopping center (opening November 30, 2012) and Greenwich Trade Center (opening December 15, 2012). The kiosks are centrally located in each mall with an open space design offering visibility from all directions. Mirroring the brand's flagship NYC store in Rockefeller Center, the minimalist design draws attention to the beauty, colors and uniqueness of the products and accessories.
Through their wholesale partnerships, eShave is already carried at the most prestigious spas and retailers in 18 countries worldwide. The opening of these kiosks will be a great way for the brand to test out its concept stores in the Russian market. eShave will use this as a model to roll out the kiosk concept in other countries through their partnerships with distributors around the world.
Through their techniques, expertise, award-winning products and shaving accessories, eShave continues to be "All A Man Needs for the best shave Ever."
About eShave:
Since 1996, eShave has been "All A Man Needs for the best shave Ever." Specializing in the finest quality grooming products and accessories, all of which are handmade in New York City, eShave brings a modern touch to the most traditional way of shaving. The award-winning brand is recognized around the globe for delivering the smoothest shave possible free from razor burn, shaving-related bumps and irritation, ingrown hairs, and the 5 o'clock shadow.
eShave is available online at http://www.eShave.com, eShave New York locations, and in select upscale retailers/spas worldwide. 1-800-94-SHAVE / contact@eShave.com
###
Media Contact: Shelly Cellak | shelly(at)burgeonagency(dot)com | 773.398.6154