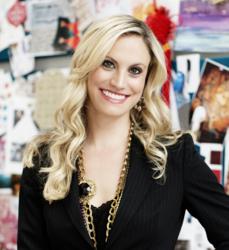 Manhattan Beach, CA (PRWEB) November 29, 2012
As part of a continued effort to penetrate the wedding industry, Capsule (tryCapsule.com), a mobile and web application for wedding photo sharing, has added two all-star entrepreneurs with diverse expertise in the wedding market to their advisory board. Showing both vision and passion for their start-ups, Ceci Johnson, founder of CECI New York, and Lee Essner, former senior level executive of WeddingChannel.com (acquired by The Knot) have not only propelled their businesses to a level of international recognition, but they continue to launch new endeavors to solidify and grow their respective brands.
CECI New York is an internationally renowned luxury invitation and corporate ID design house specializing in branding, visual styling and design. Ceci Johnson is considered the "go-to" force among a global high-profile social and corporate clientele, including royalty, A-list celebrities, leading luxury brands, and now Capsule. According to Ceci, "Capsule is a truly innovative application that allows every guest to instantly contribute their photos to a single online album. Finally, all of the magical moments of a wedding are captured in one place! I am excited to be involved, and hope to offer a creative boost to the already passionate Capsule team."
Lee Essner was the Executive Vice President and one of the top executives at WeddingChannel.com, a life-stage media and ecommerce company acquired by The Knot, Inc. in September 2006. Lee joined WeddingChannel in early 1999 as Vice President, General Counsel, and Secretary, and quickly grew to hold a variety of other senior management positions at the company. At WeddingChannel, Lee was actively involved in every aspect of building the organization from its early stages through profitability and a successful liquidity event. "I learned a lot building WeddingChannel, and I'm excited to bring that knowledge and experience to Capsule. This is a big market with a ton of potential, and I think Capsule is well positioned to capitalize on it" said Essner.
Cyrus Farudi, co-founder and CEO of Capsule, is enthusiastic about the talent and experience of the company's new advisors. Cyrus said, "I am excited to welcome Ceci and Lee to the Capsule team. They bring us the benefit of their creativity and entrepreneurial success along with a multitude of relationships they've fostered along the way. We are quickly expanding in the wedding industry, and grateful to have their guidance."
About Capsule (tryCapsule.com)
Capsule is the easiest way to capture ever photo taken at a wedding. The mobile app for iPhone and Android lets guests add photos and videos to a shared, central wedding photo album instantly with no uploading required. Capsule differentiates itself from other wedding photo apps by offering the wedding party a platform to interact, comment, and share. Capsule members can also order prints, download hi-resolution copies, and share to social networks directly from the website. Where existing wedding apps begin and end with the wedding, Capsules are designed for all the events surrounding the big day including the bachelor/bachelorette party, bridal shower, and honeymoon.
For more information, visit tryCapsule.com or find us on Facebook (facebook.com/tryCapsule), Pinterest (pinterest.com/tryCapsule), or Twitter (twitter.com/tryCapsule)