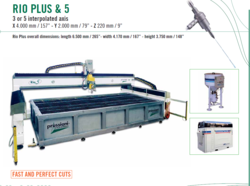 Prussiani, Made in Italy, World Class Stone Machinery!
PUNTA GORDA, FL (PRWEB) November 29, 2012
Most waterjets don't compare to the Prussiani Rio Plus power and size with its 50 HP pump at 60,000 PSI. It comes equipped with a huge table measuring 157" x 79" allowing operators to increase their productivity. The 3 axis CNC Waterjet is still valuable to any company in the industry, with only 2,100 hours, approximately one year of use. "The Rio Plus will be an excellent addition to any customer's fleet of stone machinery bringing them returns for years to come," states Joe Alva NRS equipment Inc executive. Customers say Prussianni machines run forever, due to the durability and high quality of their products. Adding this NRS certified machine guaranteeing its functionality of any and all major components for thirty days from the time of install is a great bargain for any company due to its current listing price of $82,500. As part of their certification NRS Equipment Inc. thoroughly examines the machine and replaces any part found to be faulty or deemed past its usable lifespan. This examination is conducted by their expert engineer who is the best in North America and has never walked away from a machine without it being fully operational. Companies in the natural stone industry are invited to discover the Prussiani Rio Plus at StoneMachineryLocator.com.
"This waterjet is perfect for any company looking for power and productivity," Joe Alva NRS equipment Inc executive reports. "It is highlighted on our StoneMachinerlyLocator.com homepage because we feel it deserves fabricators' attention." Customers can see the Prussiani Rio Plus's features and description in more depth by linking to its ad here as well as a quality photo slideshow of the CNC waterjet. StoneMachineryLocator.com is dedicated to serving the needs of customers in the stone machinery industry. They will find used equipment their customers desire and will advertise and sell excess machinery they have free of charge. An added benefit of StoneMachineryLocator.com is a free email newsletter that customers receive after simply opting in with their email address. This free newsletter broadcasts to customers' new Stone Machinery listings and special offers.
Companies and fabricators are also welcomed to stop by for any other stone machinery needs. You will be able to search through many other categories including but not limited to CNC machine centers, cnc bridge saws, water filtration systems and edge polishing machines. Joe Alva executive at NRS Equipment located in Punta Gorda, FL is ready to go to work for all customers. NRS Equipment Inc. keeps a large inventory of stone machinery on site keeping them able to meet the industry needs. Joe can be reached by phone or email and readily invites questions and feedback regarding StoneMachineryLocator.com