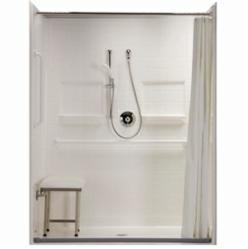 We've decided to extend our Cyber Monday Sales Event for an entire week! More huge savings and free random giveaways!
New York City, NY (PRWEB) November 29, 2012
Aging Safely Walk In Bathtubs has announced they will be extending their Cyber Monday Sales Event for an additional week. Walk in tubs are a very popular product for seniors and anyone with mobility restrictions. Not only can a walk in bathtub add peace of mind for those concerned with having a dangerous fall in the bathtub, but walk in tubs also have the option to come with warm air hydrotherapy which can turn an ordinary bathroom into a luxury spa.
With this extended sales promotion, Aging Safely Walk In Bathtubs will be continuing the deep discounts that range from 10% up to 40% off of normal walk in tub prices. Potentially saving customers thousands off of what competitors sell like models for. Aging Safely offers the highest quality safe bathing products on the market. Several of their product line has third party certifications, further verifying quality craftsmanship. The company also indicated there are still several close out and overstock models left that have even larger discounts applied and are perfect for those seeking an incredibly low price. Customers should note however, overstock and closeout models have limited quantities available. For closeout and overstock details it is recommended to contact an Aging Safely representative to find the hydrotherapy tubs that are right for you.
Furthermore Aging Safely will be giving away random prizes, such as free grab bars, gift cards to major retailers, free product upgrades and double pay outs on referrals for walk in bathtubs. Aging Safely will also be posting discount codes on social media sites, such as Twitter and Facebook where online shoppers will be able to qualify for special discounts not found anywhere else. Free shipping always comes standard for walk in bathtubs, but for this sales event the company will also offer rush free delivery on select roll in showers and walk in tubs.
If you're looking for a walk in bathroom, then this sales event is something you will want to check out. Aging Safely ships senior bathtubs and wheelchair accessible bathtubs to all 50 States and Canada. Several of their tubs come with safe bathing technology like thermal mixing vales which can regulate the temperature of the water exactly to bathers liking. Chromatherapy, Aromoatherapy, hydro and air therapy jets are also great options to consider.These unique accessories can make this investment as much about enjoyment as it is about bathroom safety.
The bathroom is considered one of the most accident prone rooms in the home and the high costs of assisted living facilities or nursing homes make this an investment that seniors citizens that want to stay in their home should greatly consider. The modest costs of adding walk in bathtubs, in comparison to the costs of a potential fall or assisted living really makes sense for a lot of people that are finding creative ways to successfully age in place.
Contact Information:
Tye Wennstedt
1-888-779-2284
info (at) agingsafelybaths (dot) com