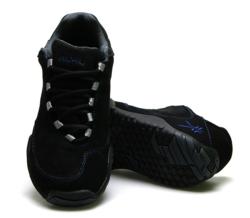 Social media has really helped us get a better grasp on our customers' needs.
(PRWEB) November 30, 2012
KURU Footwear goes black, and they're never going back! The online retailer debuted their new all-black version of the award winning Chicane style shoe Thanksgiving weekend 2012. Both the men's and women's style, named the Smokestack and the Riveter respectively, have been the fasted selling shoes for the comfort footwear brand to date.
Bret Rasmussen, KURU Footwear's founder and CEO, credits social media for part of the success of this recent shoe to KURU's social media presence, specifically Facebook. "We found a lot of customers started reaching out to us with feedback on our Facebook page, so we built Facebook feedback into our site. We constantly got requests for an all-black shoe. After debating whether or not to move forward with it for a year or so, we decided to order them and see how they did. We should have listened to our customers sooner. Social media has really helped us get a better grasp on our current customers' needs."
Nicole Peterson, who is over the brand's research and development, said, "I find this really exciting. Was a black shoe my dream to create? Not really. But after a lot of customer persuasion, and the addition of some subtle pops to distinguish it from every other all black shoe, I was really pleased with how the aesthetics of the shoe turned out. It is always validating to see the shoes sell well, but this one in particular, since it was so highly requested. We didn't know if it was just a couple of really squeaky wheels we would be greasing or if it would be a shoe that would be widely accepted. I'm happy it was the latter, and I will definitely be using feedback from our Facebook and Twitter customers more in future developments. I don't think you will see the Smokestack or the Riveter disappear from our line up any time soon. They're here to stay!"
Also joining the Holiday line-up for KURU is a re-order of the popular Cub/Bedrock Chicane for men as well as a new Heliotrope Purple Chicane for Women. All styles are currently available at http://www.kurufootwear.com.
KURU Footwear was established in 2008 by Bret Rasmussen whose mission was to create the world's most anatomical shoe. Every pair of KURU shoes has a built in, patent-pending technology that cradles your foot in a way unlike other shoes on the market. Sold online only, their direct to consumer approach has allowed them to build a relationship with every customer who purchases. The Salt Lake City, Utah ships their award winning shoes to customers worldwide.