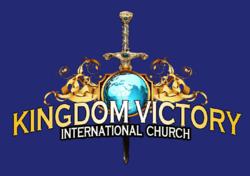 Middletown, OH (PRWEB) November 29, 2012
After 3 years of ministry to the Cincinnati area and abroad, the senior pastor & pastoral staff have decided to merge both church locations into one full family church ministry with the focus to expand its community & global outreach ministry impact.
Members of the Kingdom Victory Media Ministry Department successfully caught up with their pastor, Bishop J. Tylor Thompson, in his office for a sit down interview. During this interview, Bishop Thompson detailed the reasons leading up to the decision and provided added information and a preview of future plans for the church.
Amongst other issues, Bishop Thompson said one of the main reasons for the merger was based upon continuous facilities problems having to be consistently addressed but never repaired by ownership. Bishop Thompson believes the recent acquisition of a church in nearby Middletown was the plan of God and precursor to bigger blessings in store for 2013.
Finally, Bishop Thompson encouraged the residents of Cincinnati to stay tuned and keep abreast of Kingdom Victory news via the website and various social media & news outlets because future plans include a return to the Northern Cincinnati area.
For more information about Kingdom Victory International Church, visit the website at http://www.KingdomVictoryNow.org.