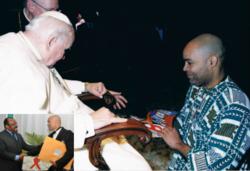 New York City, New York (PRWEB) November 30, 2012
Mr. Mooney of Queens puts his faith first on World AIDS Day and the eight anniversary of the Blessed John Paul, benediction of his mission to raise the global awareness of HIV/AIDS, encouragement of voluntary HIV testing and access to anti-retroviral medicine for those who need them.
"Reality may have anchored my pursuit to cross the Atlantic Ocean, but I operate in the spiritual world. The father says all things are possible and have no fear, for I'm with you", said Victor Mooney.
Mr. Mooney has lost one brother to AIDS and has another battling the disease. He still needs a benefactor to purchase an ocean rowboat and related expenses, which he intends to row from Las Palmas, Canary Islands to New York's Brooklyn Bridge in his fourth bid for an AIDS-free generation.
Mr. Mooney has christened the twenty four foot ocean rowboat, "the Spirit of Malabo". The high tech boat is equipped with a satellite phone, freeze-dried food and all the required gear for a safe journey across the Atlantic Ocean.
December 1, 2012 1:00 pm
Steps of St. Patrick's Cathedral
In commemoration of World AIDS Day, the general public is invited to bid on a rowing oar at Ebay from November 29 – December 3, which was signed by U.S. Congressional members and United Nation diplomats
Check it out now! Commemorative Rowing Oar http://r.ebay.com/lSCuMX
Photo Handout: The Blessed John Paul (formerly Pope John Paul II) blesses Victor Mooney at the Vatican on World AIDS Day. (Inset) Victor Mooney shown with the commemorative oar with H.E. Anatolio Ndong Mba, Ambassador for Equatorial Guinea to the United Nations, also a signature for the oar.