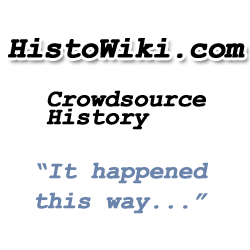 For years I've noticed how stories, or the history of a thing, shall we say, changes over time as new facts arrive and old ones get vetted. HistoWiki.com's timeline posts are going to be a new twist on an old way of consuming information.
Austin, TX (PRWEB) November 29, 2012
Groovy Online, Inc. launched their new crowdsourced history site, HistoWiki.com, into the Beta testing stage today. The website is offering it's visitors a unique experience for anyone passionately concerned about the history of their interests... the blessings of notoriety.
The site's header claims it's "crowdsourcing history and current events daily". When a visitor comes to the homne page, the first thing they will notice is that every post is a timeline, events displayed in chronological order. The site's owner, Jay Turner, thinks there is a tremendous advantage to following an ongoing story in this manner, and says "For years I've noticed how stories, or the history of a thing, shall we say, changes over time as new facts arrive and old ones get vetted. Recording these mini-histories as timelines has really opened my eyes to how we as social creatures create, define and evolve history as we go."
The idea is that visitors can view a topic, and recommend new relevant facts in the comment section using thier social media account. If the curator of the topic thinks it's relevant, the addition gets added and the commenter gets a citation... their name in the contributors section linked to their social media account. By crowdsourcing the recorded history of the topic this way, social media does something rather remarkable... it provides transparency. "By people actively building the history of the topic, adding relevant information, arguing about it in the comment section, sharing it with thier friends, and most interestingly, being so visibly credited... I think that adds a lot of fun factor for someone who genuinely cares about the process of recording history", says Jay Turner.
Currently the timelines cover a diverse range of topics, anything from the career of Bob Dylan, to Google's Glass Project. But it is more than a one man job, so one of the testing variables is offering would-be curators the chance to host thier own timeline at HistoWiki. And the benefits of collaborating at this level have some interesting perks for history enthusiasts. Every curator gets a bio section where they can tell the world something about themselves, and include a pitch to thier website, and even links to their social media profiles. So for many people, the chance to chronicle something very dear to them as well as be noticed for their diligence looks like a possible confluence of interests.
To join in the beta test and see how one can get started curating a timeline of their own, interested news junkies and fact checkers can go to the beta test signup page here