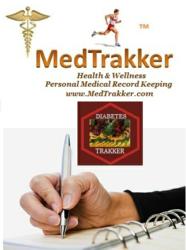 I wanted to take the pressure off other families caring for their loved ones and create the best personal medical record keeper you can find.
Winchester, Virginia (PRWEB) November 29, 2012
Whether an individual has Type 1 or Type 2 Diabetes, they both require lifelong treatment to keep blood sugar levels within a target range. This personal medical record keeper can help patients or their loved ones record medical history, personal contacts, surgical histories, health and nutrition, medications, immunization dates, medical devices, blood pressure levels, blood sugar levels, appointments and so much more.
"There were so many things to take into consideration when caring for my husband's diabetes, medicine, appointments, diet, exercise, complications, etc… I wish I'd had everything right in front of me, that's why I created Diabetes Trakker. I wanted to take the pressure off other families caring for their loved ones and create the best personal medical record keeper you can find." Said author Amber Bowden.
Diabetes can be the source of so many health complications. It can cause damage to the small blood vessels, damage to the retina of the yes, give a patient reduced vision, cause potential blindness, cause damage to the kidneys, create damage to the nervous system and vascular disease of the legs and feet. The more information a patient or caregiver has readily accessible, the better and more effective the treatment becomes. Not only does Diabetes Trakker have a place to record appointments, information about medications, side effects and benefits, log tests and procedures, manage blood glucose testing and insulin records, dialysis regimens but it also has a section to record life matters.
As we all know, accurate medical record keeping is essential in caring for a loved one, or ourselves but there's also other personal information that's very important especially when a patients health condition is chronic or takes a turn for the worse. Sometimes only the patient themself knows the locations of bank accounts, safe deposit boxes, insurance policy info, automobile titles, birth and death certificates, power of attorney, divorce papers, last will and testament, and important contacts, such as lawyers, family physician, funeral home, cemetery plot information, executor, stock brokers, etc. Diabetes Trakker has a whole section dedicated to recording all this crucial information in one place allowing an already stressful situation to be lessened and allowing the focus to be on healthcare and creating life changing habits rather than record keeping.
Diabetes Trakker has a section that explains complications associated with Diabetes and potential health risks. It's essential to learn about the risk factors associated with diabetes and how to avoid complications, when to start diabetes screening, and conditions that can develop as a result of diabetes and how to treat them. This personal medical record keeper has a section to keep a daily food diary, a weight record and a daily exercise log for patients to monitor physical condition and maintain the best possible health at all times.
Dealing with medical care providers and insurance companies can be a major stress factor in itself. Diabetes Trakker has a section to record comments from medical providers and to record important insurance information. There is so much information to compile when filing claims and making sure procedures are covered. This personal medical record keeper includes some helpful insurance tips and an area to record discussions with insurance agents and notes so they can be used for future reference. There's so much more information in this convenient personal medical record keeper. It's a must have for anyone with Diabetes.
You can find Diabetes Medical Organizer exclusively online. Author Amber Bowden is available for speaking events, book signings and expert quotes and can be reached at Linkedin and at Twitter to answer further questions regarding the whole family of MedTrakker Personal Medical Record Organizers.