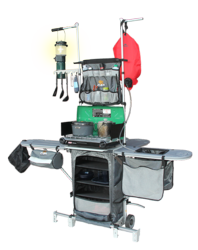 The Grub Hub meets the needs of just about every type of camper from families with young children to Burning Man attendees
Leeds, UT (PRWEB) November 29, 2012
The patented new Grub Hub camp kitchen, manufactured by GrubHubUSA, is now available and according to company president Joe Baughman, "Is the perfect camp kitchen for just about anyone camping just about anywhere". Mr. Baughman says the product was designed for outdoor sports enthusiasts to make camping easier while enjoying mountain biking, rock climbing, kayaking, canoeing, hunting, fishing, surfing, kite boarding, motocross and many other activities that take place outdoors and naturally include camping."
Mr. Baughman adds "Whether camping out for one night or multiple weeks, the Grub Hub's features and portability make getting outdoors easier for any camper. At the outset it completely manages all camp kitchen gear making it much easier and faster to prepare for the trip. On arrival, the Grub Hub unfolds to form the campsite "hub" in just 2-3 minutes."
"In addition to sports enthusiasts," Mr. Baughman says, "The product meets the needs of just about every type of camper from families with young children to Burning Man attendees. Tailgaters, scouts, music festival goers, boaters, outfitters, overland travelers, and 4x4 enthusiasts all find camping is much easier with a Grub Hub camp kitchen."
Mr. Baughman provides the following observations for different types of campers:
"The Grub Hub provides families with the features to make cooking outdoors and cleaning up very easy while enjoying real food instead of "add water" meals or basic grilled items."
"For tailgaters, the attraction is having everything stored and organized inside, then easily hauled to the game and set up in minutes for great food and a cookout set up that wows everyone."
"Scouts and scout leaders appreciate the portability and organization and 6-8 scouts can take responsibility for their Grub Hub during each campout while learning to live sustainably outdoors."
"Many music festival venues such as Telluride Blue Grass, Lollapalooza, Bonnaroo, Summerfest and others require transporting gear from auto to campsite. This is a chore made easy by the Grub Hub's built-in wheels."
"Guides and outfitters going deep into the mountains by horse or bush plane appreciate the Grub Hub's compact footprint. It fits into small plane cargo holds and into standard horse panniers. At the same time it provides work space and features to support the outdoor kitchen needs of 2-8 people."
"Overland, off-road and ATV travelers, as well as boaters and rafters, immediately appreciate the Grub Hub because it is a self-contained, compact, single unit that is easy to manage while taking up the least amount of space possible. It replaces outdoor tables, stands, boxes and totes that would otherwise be needed for the same functionalities such as lighting stand, work tables, sink, storage cabinet, pot, pan and dish organizers, etc."
The Grub Hub Mesa I MSRP is $379. It is pictured with optional accessories to illustrate usage. The product is available through a growing list of outdoor outfitters and online retailers.
GrubHubUSA is located in the greater St. George, Utah area where exploring the southwest mountains and canyons provides the inspiration for developing exceptionally functional and reliable gear. For more information please visit http://www.grubhubusa.com or call us at 435-705-1773. Like us! at Facebook.com/grubhubusa.