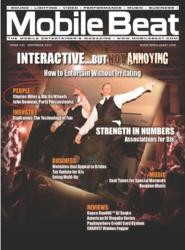 "(Miles) carved out a unique niche with his sound systems-on-wheels." - Dan Walsh, Editor in Chief, Mobile Beat Magazine
Orlando, FL (PRWEB) November 29, 2012
DJ Charles Miles had a lot to be thankful for this Thanksgiving.
Mix on Wheels, his Orlando-based entertainment DJ vehicle company, has been featured on the cover and in a two page spread in Mobile Beat Magazine, a premier mobile entertainment publication. Dan Walsh, Editor in Chief of Mobile Beat Magazine, acknowledged Miles "carved out a unique niche with his sound systems-on-wheels."
The article, titled "Going Uniquely Mobile," dives into the history of the company, creative processes and variety of uses for the entertainment vehicles such as indoor events, marketing campaigns, etc.
The Mix on Wheels fleet of vehicles consists of the Hummer H3 Xtreme, E2 Xtreme Honda Element and the most recent addition, the MINI Cooper Xtreme Clubman which most recently has been nominated for 2012 Special Events Magazine Gala Award for "Best New Innovative Event Product/Technology."
About Mix on Wheels
Founded by Charles Miles in 2008 and winner of the international 2011 ISES Esprit Award for "Best Industry Innovation," Mix on Wheels was most recently awarded two 2012 Orlando WOW Awards for "Best Technical Achievement" and "Best Event Innovation" for their work on the MINI Cooper Xtreme Clubman. All Mix on Wheels vehicles are available for personal celebrations, corporate and sporting events, festivals and experiential marketing campaigns.
For more information on any of the Mix on Wheels vehicles, media inquiries or to book a vehicle for your next event or marketing campaign, contact: 407.490.5757, info(at)mixonwheels(dot)com.