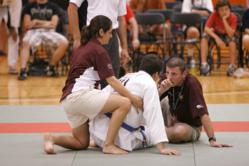 Injury rates are lower at high schools that employ the services of a certified athletic trainer.
Albany, NY (PRWEB) November 30, 2012
Though certified athletic trainers have been helping athletes and the physically active of all ages since before the National Athletic Trainers' Association (NATA) was established in 1950, the public at large still does not have a grasp on the unique expertise of ATs and the vital role they play in the prevention, recognition, management, and rehabilitation of sports-related injuries and illnesses, including life-threatening conditions.  In recent years, various healthcare groups have conducted studies and released data supporting the effectiveness of athletic trainers (ATs) in reducing overall injury rates, most notably the current AAP study, "A Comparative Analysis of Injury Rates and Patterns Among Girls' Soccer and Basketball Players," which was presented at the AAP National Conference in New Orleans at the end of October.  They found that overall injury rates for soccer and basketball were lower in high schools with ATs compared to those without: 23 injuries vs. 40 injuries per 10,000 athlete exposures, respectively.  The re-injury rate showed the most significant decrease when an AT is involved, with a nearly six-fold decrease in soccer.  This is likely due to the preventative, immediate, and rehabilitative care that ATs provide, as well as having a skilled set of eyes on predisposing factors, training practices, injury patterns, and particularly, return-to-play preparedness.  "NYSATA hopes this research will encourage high schools to hire ATs and improve healthcare access for youth athletes," says NYSATA president Deanna Errico, PT, DPT, ATC.
Another finding of the AAP study was a higher rate of diagnosed concussions in high schools with an athletic trainer.  This is actually a positive finding, as many concussions go undiagnosed and are improperly managed, increasing the potential for more severe and longer lasting effects, like Second Impact Syndrome, which can be fatal, or long-term memory loss.  According to the American College of Sports Medicine (ACSM), as many as 85% of concussions go undiagnosed in high school athletics and 41% of these athletes return to play too soon – numbers that would undeniably decrease if ATs were present, as supported by the AAP findings.   
These sentiments are further supported by the NYS Education Department, as demonstrated by their consultation with NYSATA in creating the Guidelines for Concussion Management in the School Setting, released in the summer of 2012, in which ATs play an integral role in the recognition and management of concussions.
For over a decade, other healthcare organizations, including the American Medical Association (AMA), American Academy of Family Physicians (AAFP), American Academy of Pediatrics (AAP), and the Centers for Disease Control and Prevention (CDC) have shown public support for athletic trainers as essential healthcare providers.  These and other organizations have worked in conjunction with the NATA on position, consensus, and support statements regarding health and safety issues, such as preventing sudden death, severe weather protocols, concussion management, and the need for athletic trainers in secondary schools.
Having certified ATs present during athletic events is essential to ensure the best possible care for student-athletes, especially those in their developmental years.  While the presence of an AT is all but ensured in Division I sports, not all small institutions and high schools are providing the same level of safety or overall healthcare when ATs are not considered a priority and are left out of the budget.  Unfortunately, only about 42% of high schools nationwide have access to an AT, and this number is even lower in New York State.  NYSATA President Errico adds, "Though further analysis is required to determine the total healthcare costs associated with the management of sports injuries, the expenses are certainly greater than the cost associated with employing an athletic trainer."
NYSATA, founded in 1976 and incorporated in 1989, stands to advance, encourage and improve the profession of athletic training by developing the common interests of its membership for the purpose of enhancing the quality of healthcare for the physically active in New York State. Comprised of over 1,500 certified and practicing athletic trainers, NYSATA is the state-wide affiliate of the regional Eastern Athletic Trainers' Association (EATA) and District Two of the National Athletic Trainers' Association (NATA).