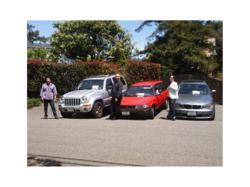 Over 12 million Americans are caught up in the mortgage mess.
San Francisco, California (PRWEB) November 29, 2012
Now that the popular Gangnam music style is sweeping the Internet, you might call this new video series in the Bankman style, since the songs combines a pop music beat with commentaries on the banking and foreclosure crisis that has gripped the nation.
The first of these is Bad Bad Banks, a lighthearted video inspired by the experience of multi-published book writer Gini Graham Scott, who survived the foreclosure crisis after two banks dropped her credit line and she nearly lost everything. In the music video, four actors sing about how the banks took their house and car – but now they are fighting back. The video is at: http://www.youtube.com/watch?v=2sdw2IAuZYo. A second video out shortly is Credit Card Rap, about problems with credit card companies.
As the singers describe it, first one bank and then another took away their credit so they had to default on their mortgage payments. Or as the chorus goes:
The banks are bad. Oh, yes they are.
They took my house, and then my car.
They closed out my cards so I couldn't pay.
Forced my default, but what could I say?
Yeah, the banks are bad. They're bad, bad bad.
At first I was sad, but now I'm just mad!
And then the verses tell the story about what happened.
In reality, Gini sold her Oakland house and moved to a rental in San Francisco, but she turned her experience into a series of creative projects that speak to the plight of over 12 million Americans caught up in the mortgage mess. Besides the Bad Bad Banks song, Gini published her personal story: Living in Limbo: From the End to New Beginnings, which describes her day-to-day experience of nearly running out of money and highlights her amazing recovery after selling her home.
Besides the music videso, Gini Scott's experienced inspired a series of short documentaries on middle class homeowners losing their homes called Middle Class Homeless; one is at http://www.youtube.com/watch?v=TBi-PC0xg-k. She has also been an active supporter of a number of groups helping people save their homes, such as Causa Justa, which has organized several auction actions to stop auctioneers from selling homes in foreclosures.
Gini is the founder of Changemakers Publishing and Writing (http://www.changemakerspublishingandwriting.com) and the author of over 50 published books. She received a Ph.D. in Sociology from the University of California in Berkeley, a J.D. from the University of San Francisco Law School, and M.A.s in Anthropology, Mass Communications and Organizational/Consumer/Audience Behavior and Popular Culture and Lifestyles at California State University, East Bay. She is getting an additional MS in Recreation and Tourism in 2013 and writing her final thesis on finding funds for independent films, which will be published by Hal Leonard. She has spoken about the topics of her books to many groups and the media, including appearances on Good Morning America, Oprah, and CNN.
For more information, contact:
Nancy Parker
changemakers (at) pacbell (dot) net
(415) 571-8282