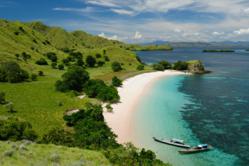 Remote Lands have also recently launched a collection of Pinterest boards featuring the pick of high quality Asia travel images.
New York, NY (PRWEB) November 29, 2012
Remote Lands Inc, ultra-luxe bespoke Asia travel specialists, are now well established as a timely source of Asia travel information on Facebook, Twitter, Google+ and Pinterest for both consumers and travel professionals.
As a renowned authority on luxury travel in Asia, Remote Lands' social media channels can be relied on to inspire travelers to discover this beautiful and rapidly growing tourism region. The company's social media pages feature exciting travel news covering everything from new hotels and destinations to incredible activities, as well as stunning images of Asian destinations. With over 6,000 followers, the Remote Lands Facebook page is a popular and regularly updated source of Asia luxury travel news, articles, videos and photography, with the same compelling content featuring on the company's Google+ page.
Remote Lands have also recently launched a collection of Pinterest boards featuring the pick of high quality Asia travel images, from well known destinations such as Phuket and Hong Kong to less explored spots such as Laos, Papua New Guinea and Bangladesh.
For those who prefer Twitter, the company also has a lively Twitter feed with regular tweets featuring news, musings and links to interesting Asia-related articles, as well as regular dialogue with its followers.
Partners, clients and followers of Remote Lands may also find the company on Linkedin, where they offer news and articles of interest to tourism & hospitality industry professionals.
Remote Lands on Facebook
Remote Lands on Google+
@remotelands on Twitter
Remote Lands' Pinterest boards
Remote Lands on LinkedIn
About Remote Lands, Inc.
Remote Lands, Inc. creates highly personalized, ultra-luxe holidays in Asia, optionally by private jet or yacht. Based in New York and Bangkok, they specialize in extraordinary experiences that are difficult to arrange and require privileged access to important people and exclusive events, drawing upon their relationships with remarkable people around Asia. They distinguish themselves with their unparalleled service, creative itineraries and extreme attention to detail.
Remote Lands has been featured in The New York Times, The Wall Street Journal, Departures, Travel + Leisure, Condé Nast Traveler, Town & Country, the BBC, Fox Business News, Financial Times, National Geographic Traveler, W, Newsweek, Forbes, BusinessWeek and more.
Remote Lands' destinations include: Bhutan, Cambodia, China, India, Indonesia, Japan, Laos, Malaysia, the Maldives, Mongolia, Myanmar (Burma), Nepal, North Korea, Papua New Guinea, the Philippines, Singapore, South Korea, Sri Lanka, Thailand and Vietnam.