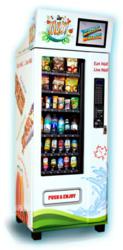 "The soda industry and junk food companies have been providing incentives to Canadian schools for years now ... We're glad to make a solution available that finally makes sense: our Healthy Snacks In Schools Initiative."
- Shaun Casey
Vancouver, British Columbia (PRWEB) November 29, 2012
Canadian Healthy Vending, Canada's largest healthy vending machine provider, announced its Healthy Snacks In Schools Initiative today. Grants of up to $10,000 will be paid to each Canadian school, university, college or training centre that participates in the program by hosting a vending machine that contains both nutritious snacks and healthy cold drinks.
Grants will be presented upon installation of each Max! Healthy Vending machine in the amount of $500 per machine, with a maximum total grant of $10,000 per school for 20 machine installations.
"We're excited to offer our Max! Canadian Healthy Vending machines to Canadian schools," says Shaun Casey, President of Vancouver-based Canadian Healthy Vending. "The soda industry and junk food companies have been providing incentives to Canadian schools for years now. With funding cuts and a shortage of money for school programs, many schools find themselves conflicted. Should they accept funds from the same companies who are providing sugar-laden, high fat snacks and drinks to their students? We all know that diet-related illnesses like childhood obesity and diabetes are on the rise. We're glad to make a solution available that finally makes sense: our Healthy Snacks In Schools Initiative."
The company is now accepting requests from schools in all regions of Canada and has set aside an initial 200 Max! Machines for the program launch and expects to quickly place this batch of machines into schools—and disburse $100,000 in grants—during the first weeks of 2013.
About Canadian Healthy Vending
Canadian Healthy Vending, the manufacturer of the Max! Canadian Healthy Vending Machine, is a Vancouver-based vending equipment manufacturer and distributor with over 23 years experience in the Canadian vending industry. Our Mission is to get healthy snacks and nutritious drinks into the hands of Canadian workers and students in every city and province across the country. The state of the art Max! Machine features both cash and cashless payment systems in addition to a high-resolution display monitor, which provides nutritional information on product offerings, and information on community health initiatives. To get more information visit Canadian Healthy Vending's website.To find out how to get a Max! Healthy Vending Machine at your school or workplace and learn about our partnership with the Canadian Breast Cancer Foundation, go to the Healthy Snacks In School webpage.