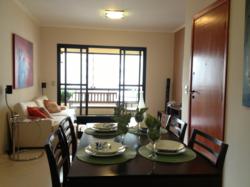 Relocation companies, destination service providers, and individual HR and travel departments are welcoming us with open arms
Sao Paulo, Brazil (PRWEB) November 30, 2012
For many years, if one were in need of temporary housing in Sao Paulo, there were not many affordable, comfortable, and spacious choices available that offered the full conveniences of one's own home. In stark contrast, there has been an abundance of high quality temporary housing options for extended business travelers, relocating employees, and expatriates within the United States and Europe for the better part of three decades. The growth of corporate housing, as it is known in the United States, and the Serviced Apartment, as it is known across Europe, has exploded in growth, especially over the past 10-15 years as longer term business travel and worldwide employee relocation have increased dramatically.
This concept of temporary housing is extremely cost effective, offers much larger space, and is set in residential communities, making it more comfortable and easier for the employee or family to integrate into their new surroundings, a task made much more difficult if one were staying in the more transient environment of the hotel or extended stay flat. The typical 20%-40% savings are substantial when all expenses associated with temporary living are accounted for including lodging, food, parking, utilities, laundry, internet, etc. These savings do not take into account the psychological advantages of being in larger, more comfortable, home-like settings vs. the hustle and bustle, fast-paced, transient, small and cramped space of a hotel. All of these factors combined translate into a more relaxed, more productive and happier employee and family when a furnished apartment is chosen for one's temporary housing needs in Sao Paulo.
Today's choices for temporary housing in Sao Paulo have been limited primarily to the extended stay or apart-hotel option. For furnished apartments, there are some brokers or listing agents that offer individually owned furnished apartments, but these are still difficult to procure with various lease options and no standardization of amenities or service. The process can also take several days with multiple contacts and negotiations costing time, money and frustration.
The options for temporary housing in Sao Paulo have now changed with the arrival of Avenida Suites Brazil. Avenida Suites is an experienced corporate housing company with its principal headquarters in Tampa, Florida, and a newly incorporated subsidiary in Sao Paulo. Avenida's American and Brazilian founders recently relocated to Sao Paulo to begin offering temporary housing based upon the corporate housing model in the U.S. and Europe. The standardization of product offering and best in class processes and procedures allow Avenida Suites to provide quick and cost-effective solutions for all temporary housing needs.
Avenida Suites Brazil procures individual apartments and prepares them using a standardized list of furnishings and house wares and connects all services and utilities so there is a complete package for one all-inclusive price. Avenida carefully chooses each temporary home for its location, size, condition, amenities, and many other factors. These procedures allow Avenida to systematically manage each phase of the temporary housing process to ensure it is simple, responsive and flawless across every market served. With local teams in place and a focused and driven team of industry veterans, Avenida is dedicated to delivering best in class service and product for any company who needs temporary housing in Sao Paulo.
"Relocation companies, destination service providers, and individual HR and travel departments are welcoming us with open arms," says Dan Gorman, Avenida's President and founder. "These companies are super excited that they now have a single resource to call upon for their temporary housing in Sao Paulo. They have all indicated that the need for a local company offering the options, standards and service of the corporate housing industry is long overdue. We are passionate about what we do and are proud to be changing the paradigm for temporary housing in Brazil."
About Avenida Suites Brazil
Avenida Suites Brazil is a rapidly growing provider of corporate apartments and corporate housing services headquartered in Sao Paulo Brazil. Avenida Suites Brazil continues to expand its reach and capability opening new offices in locations around Brazil and South America. It's fully furnished and serviced apartments range in size from one to four bedrooms and include a full array of packages to meet the style, budget, and needs of any type of traveler. For more information on how Avenida Suites may be able to help you or your company with temporary housing or corporate apartment needs in the United States or Brazil call 1-888-553-9943 for U.S needs or 55-11-3958-8733 for Brazil or visit either website at http://www.avenidasuites.com or http://www.avenidasuitesbrazil.com.