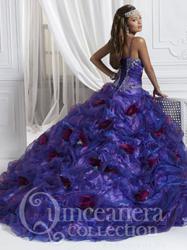 Young women everywhere now can share their favorite Quinceañera Collection styles on our Pinterest board
Fort Myers, Fl (PRWEB) November 30, 2012
Quinceañera Collection is excited to announce that its board on the social photo-sharing Web site Pinterest.com is now live. One of the largest social network services, this global platform connects people with their unique interests and hobbies. Young women everywhere now can share their favorite Quinceañera Collection styles as they plan their coming-of-age birthday celebration, prom, or other marked event! Come see stunning quinceanera dresses - explore, share, have your say.
With the recent release of the Spring 2013 Quinceañera Collection, the birthday girl and prom princess can post, blog, and share about their favorite Quinceañera Collection gowns, such as the regal style 26644 and the playful style 26709. Follow the Quinceañera Collection on Facebook.com, Pinterest.com, and House of Wu Blog, where formalwear fashionistas come together to discuss and share the latest design trends and fashion statements.
Visit the store locator at Quinceañera Collection website to find an authorized retailer today.
Explore glamorous designer quinceanera dresses at Quinceanera Collection Pinterest board.