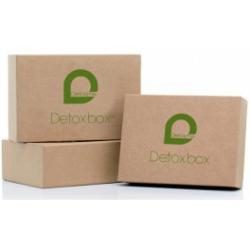 The Detox box from Detox.me is the perfect way to launch your detox programme. The box comes in three types, Rejuvenate Me!, Cleanse Me!, Nourish Me! and each one is tailored to give the consumer the perfect detox experience.
London (PRWEB UK) 30 November 2012
Milan Panchmatia, Managing Editor at Detox.me says "We are really excited about the launch of the Detox Box and it's the perfect way to launch a detox programme. The box comes in three types, Rejuvenate Me!, Cleanse Me!, Nourish Me! and each one is tailored to give the consumer the perfect detox experience"
Each detox box contains a range of high quality detox products that are structured around the four key areas of detoxing: inner detox, outer detox, detox knowledge and detox
Milan Panchmatia went on to say "It's really important to consider all aspects of the detox process, so we've designed the box to cover these off whilst giving the user the sense of being pampered. Detoxing can, and should be fun!"
For the inner detox:

Milk Thistle: A flowering herb which has been used for medicinal purposes for centuries. It is an antioxidant known for its benefits to liver function, helping the liver's recovery (after maybe a few too many glasses of bubbly), as well as lowering 'bad' cholesterol
Wheatgrass Powder: Packed with vitamin E and chlorophyll, which have antioxidant effects preventing the formation of free radicals. It is also high in protein which aids digestion and cleanses the colon. Blend with fresh fruit to make a cleansing smoothie.
Detox Tea: Bursting with benefits! Made from liquorice, dandelion and anise, as well as aiding digestion this tea enhances detoxification, helps to get the bloat out (after those big meals!), and is widely known to help with weight loss.
Aquaphor LINE water filter jug: with a 2.8 L capacity jug and a universal Brita CLASSIC compatible filter. This pitcher allows households to keep ever ready filtered water in the fridge or on the counter knowing that the water will remain contaminant free at all times. (not included in the Cleanse Me! Detox Box)
For the outer detox
Dry Body Brush:One of the best ways to care for your skin. Body brushing promotes healthy skin by stimulating circulation and the lymphatic system. It improves skin tone, exfoliates the skin, aids digestion and helps eliminate cellulite. Keeps skin soft, smooth and younger looking. Fabulous! Use once a day before your shower.
Himalayan Bath Salts: Definitely a WOW factor! Add this bag of salts to your bath and you will experience true luxury. Known for its cleansing and detoxing abilities, by releasing numerous minerals and nutrients, this salt will leave your skin feeling softer than ever before. It helps when you're feeling bloated, and if you have difficulty sleeping, bathing in Himalayan salts will help you get a better night's sleep. It's no wonder it's called "White Gold"!
Natural Eye Mask: This eye mask is handmade and filled with Latvian countryside herbs which are perfect for easing tension and reducing puffiness of the eyes. When you are in need of a little relaxation, use hot, cold wet or dry, and you will be able to drift away to a happy place.
Lovea Argon Protective Body Oil: Keep your skin in amazing condition with this blend of Argon and other oils. Filled with vitamins and essential fatty acids, this product protects against free radicals and will leave your skin feeling very soft and hydrated. You will definitely feel revitalised after use, and smell luscious too!
Detox Knowledge
The brilliant detox book "Detox Yourself: Feel the Benefits After Only 7 Days" by Jane Scrivner. This book is a highly effective spring-cleaning programme for the whole body. It contains a 30-day programme to enhance your circulation, boost your immune system, tackle your cellulite, improve energy levels and promote brighter skin.
Also included in the book are delicious recipes, menu plans, shopping lists, and which foods to enjoy and which to avoid.
Detox Experiences
The Nourish Me! and Rejuvenate Me! Detox Boxes also include spa break / treatment vouchers provided by our partners at Wahanda.com. These vouchers can be used towards any of the vast range of treatments and spa breaks across the country
About Detox.me
Detox.me is the premier Internet resource for people who want to change or improve their health and lifestyle.
At Detox.me positive change is applauded, knowledge is championed and health and wellbeing are celebrated. This is the place to go to gain some balance and feel great about yourself, not to worry about the daily grind and stress of life.
Detox.me is a highly interactive community written by people and for people who are passionate and knowledgeable about detox, nutrition, health and wellbeing. Users are encouraged to interact in the forums, blogs and resource pages and we feature posts from users, staff writers and guest bloggers.
Covering all areas of lifestyle improvement, Detox.me provides users with a holistic view referencing the four key areas of detox: inner detox, outer detox, detox knowledge and detox experiences.
Users can research, blog, post, or just chat about anything which helps give others a boost, be it the latest detox juice, yoga mat or spa treatment.
At Detox.me we are inclusive, uplifting and insightful. Our goal is to provide users with knowledge, fun and inspiration, to encourage, challenge and to help.
Detox.me | Health. Wellbeing. Life