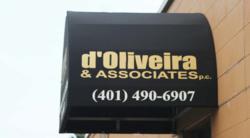 Warwick, RI (PRWEB) November 29, 2012
This November attorney Laura Cameron will be celebrating 15 years with the law firm of d'Oliveira & Associates. Laura began working for the law firm on November 24, 1997 and has since been exclusively practicing personal injury and social security disability law since then. She received her bachelor's degree from University of Connecticut in 1993 and received her juris doctorate from Western New England School of law in 1996.
Laura began working at d'Oliveira & Associates East Providence office but now is the managing attorney of the Warwick office as well as the Providence, Coventry, Cranston, Johnston, and North Kingstown offices. Laura is admitted to practice law in Rhode Island, Massachusetts and Connecticut. She is also a part of the Rhode Island Bar Association and the Rhode Island Association for Justice.
d'Oliveira & Associates is going to celebrate Laura's accomplishment at the law firm's holiday party this December. She will receive a plaque in recognition of her excellent legal service.
Attorney Paul d'Oliveira stated "It has been great watching Laura Cameron evolve into a very seasoned personal injury lawyer over these past 15 years. When she first started, she was pretty much just out of law school, but I could see she had the intelligence and desire to be a great lawyer and she has continued to grow since then into a tough attorney who can battle with the insurance companies. She also has great compassion for her clients and is great at managing her staff. Everyone really enjoys working for her and she gets the best out of her staff. She has also gotten some of the biggest settlements in the firm and she is not afraid to put a case into suit and battle with the insurance companies, if they don't give her a fair offer to settle the case. I have been so blessed to have had the opportunity to work with her over these past 15 years."
d'Oliveira & Associates is a Rhode Island and Massachusetts law firm that focuses on personal injury and disability cases, including auto accidents, slip and falls, dog bites, as well as other types of negligence cases. It also handles social security disability cases. The firm works with some of the leading attorneys in the United States for dangerous drug, defective medical product and medical malpractice cases. Please contact the law offices of d'Oliveira & Associates, P.C. at 1-800-992-6867 or fill out a contact form for a free legal consultation.