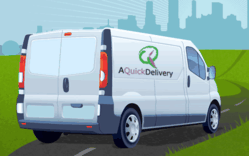 Atlanta, GA (PRWEB) November 30, 2012
AQuickDelivery, a leading provider of same-day courier and transportation services, announces their 24-hour operation for delivery services. The courier offers this extensive availability in an effort to meet all levels of client service demand. Their goal is to be the most reliable courier for same-day delivery and courier service solutions in Georgia.
The Atlanta courier will have personnel on call 24 hours and 7 days a week for all of their customers throughout the Georgia area. The personnel is made up of experienced dispatch staff, capable of quick customer responsiveness and routing optimization. To assure quality service, personnel will have rotating weekly schedules for overnight delivery services. A live person will be available to provide immediate assistance to every customer.
From small packages to palletized freight, the 24-hour operation meets the demand of customers which have 24/7 operations themselves. Most of these operation types are large corporations, which are heavily dependent and interconnected with other operations throughout the country. In any case of operational emergency, such as operation stoppage due to a machine part replacement, immediate assistance is necessary. AQuickDelivery will be accessible to provide the highest level of service in these instances, even out-of-state deliveries.
AQuickDelivery is Atlanta's premier same-day delivery courier and logistic solutions. With over 8 years of exceptional service, AQuickDelivery has a client base of over 1,500 customers, including Fortune 500 companies. The company operates 24/7 and is able to deliver fast. AQuickDelivery utilizes superior expertise and modern courier technology, to be the first and best choice for courier services.