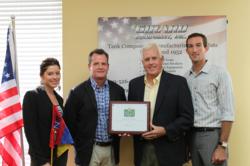 The game of golf has built-in qualities for life as a whole
Vero Beach, FL (PRWEB) November 30, 2012
It is the second HETY Award to be presented and Girard Equipment President, Timothy Girard, along side his Director of Marketing, Anna Valencia, were proud to bestow the honor upon the Indian River Golf Foundation to President, Roger Van Dyke, and Activity Cooridnator, Anthony Donadio.
The HETY Award focuses on organizations that enrich, educate, and entertain Indian River County youth and the Indian River Golf Foundation (IRGF) does just that. Their focus is to introduce young people to the game of golf who otherwise would not play the game. Through the game of golf young people learn about good citizenship, honesty, courtesy, and respect. This year the IRFC has started an after school program for 8 elementary and 5 middle schools; better still these classes are provided at no cost to the students who wish to participate.
"In my teens I was a golf caddy and it taught me so much about how to conduct myself both on and off the course as well as in business," recalls Tim Girard when discussing the advantanges of bringing back golf to the youth of today. This plaque means much to the organization but the monies that go along with it will help fund the upcoming Junior Atlantic Cup hosted in Vero Beach, Florida mid December.
The Girard Equipment HETY Award is given monthly to a different youth focused event or organization within Indian River County. To find out more or to submit an application visit http://www.girardequip.com.