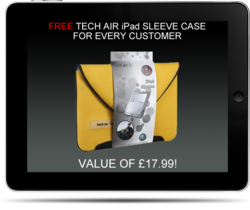 To celebrate the launch of iPad Screen Repair companies new websites, we are giving away Tech Air iPad Sleeves worth £17.99 for FREE to all new customers while stocks last.
London, Birmingham, Leeds, Glasgow, Sheffield (PRWEB UK) 30 November 2012
The iPad Screen Repair Company is a national repair business that has focused exclusively on repairing iPad screens across the UK. In 2012, the company's business development manager decided to invest in a innovative new website to launch same day iPad screen repair service.
The iPad Screen Repair Company has launched its new look website to showcase the same day repair service. The new website launch also coincides with the recent launch of the iPad Mini repair service. The iPad Mini from Apple has continued to sell well since its debut in early November. The device is expected to be a major competitor to devices like the Kindle Fire and the Google Nexus 7 this holiday seasons as tablet sales in general continue to rise.
The iPad Screen Repair Company reports that a new look website will help boost website traffic and increase sales. A spokesperson for iPad Screen Repair confirms that the company hopes that the increase in sales of iPad Mini's and iPads will continue to help boost the demand for iPad Screen Repair. Adam Duncan, from the iPad Screen Repair Company says that "we are confident that with the increase in sales volumes of iPads and iPad Mini's will mean there will certainly be more iPads to repair". There is strong competition in iPad Screen Repair, but being the number one company in the UK for iPad Screen Repairs can only be a good thing.
Apple's iPads are precision pieces of equipment that are built to last. One of the reasons for the growth in iPad sales is because of its durability. Unlike laptops or even MacBook's for that matter, iPads are not prone to software issues or viruses. Another benefit of the iPad is that it is a compact closed systems, you can't just open them up and tinker with them. DIY "dads" are known to open things up that are not even broken. They often can't help themselves, and instead of repairing things, sometimes make it worse.
The great thing about Apple's iPads is that they are a "closed off" system that prevents users from making repairs themselves. It is extremely difficult to open them unless you are professional with all the right tools. This is great for most mums and families, as it prevents dads from "tinkering" with it and it makes it extremely durable product. Nothing much goes wrong with an iPad, apart from the fact that people tend to drop it, and break the screen. There are a wide variety of so-called "professionals" who claim to be able to repair iPad screens. You will find that in reality very few of them can do a good job, because if they did then they would back their service with a long warranty on their repairs. This where the iPad Screen Repair Company is different. The iPad Screen Repair company currently ranks on page one for the term "iPad Screen Repair", the website can be found at: http://www.ipadscreenrepair.org.uk, and they are not scared to back their work up with a warranty that can only be matched by Apple themselves.
Adam Duncan, one of the managers at the iPad Screen Repair Company states that all iPad Screen Repairs come with one-year warranty for labour and parts. Adam Duncan, goes on to say that "We are so confident in the quality of our workmanship and our technicians that we back all of our repairs with a one year warranty". He also goes on to say that "this speaks volumes to our customers because they know if a company has the confidence to give you one year warranty on their repairs, then the repair must be of the highest quality, otherwise they would not offer such a long warranty". We have found that the average warranty for iPad and laptop repairs range from 1 month to 3 months. With some companies you can buy extended warranty at extra cost. With iPad Screen Repair the one year warranty comes as standard.
If you stay up to date with technology, you will also know that Apple's has recently launched the iPad Mini which has a number of different benefits over its larger-sized counterparts. The device is physically smaller and lighter than the traditional 9.7 inch models, which makes it much easier to transport and more convenient for activities like eBook reading and Web browsing. The screen itself is 7.9 inches, putting it directly in line with competing devices from other manufacturers. Despite this, the display is still capable of outputting a high quality 1024 by 768-pixel resolution.
Because the vast majority of the iPad Mini and full-sized iPad's system functions are controlled via the touch screen interface, a damaged screen could potentially render the device completely unusable. Sending a device to Apple for repairs will typically cost between £200-£300 at least and will also take several weeks. However, the iPad Screen Repair Company, which can be found at http://www.ipadscreenrepair.org.uk, offers one of the fastest iPad screen repair services in the UK. iPad screens are typically repaired with 1-3 days. They also offer same day as well as next day express service for customers who are in a hurry.
Just because the iPad Mini is physically smaller and lighter than its larger counterparts doesn't mean that users should expect the device to be any less powerful.
ABOUT US
Company Name: iPad Screen Repair
Website: http://www.ipadscreenrepair.org.uk
Telephone: 0207 100 1212
Email: info (at) ipadscreenrepair (dot) org (dot) uk
Address: 137-149 Goswell Road, London, EC1V 7ET, UK
Company Summary: iPad Screen Repair is a national iPad Screen Repair Company based in London. We provide fast and efficient 1-3 day iPad Screen Repair service as well as same day and next day services.