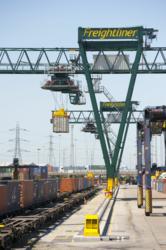 The logistics company is renown throughout their customer base for their service and reliability of 98% on time delivery and is inviting potential customers to speak book a meeting with them at Mulitmodal 2013
(PRWEB UK) 30 November 2012
Shippers, retailers, manufacturers, import/exporters, tank operators, freight forwarders, NVOCCs and transport operators that want to explore moving their containers by rail are invited to book a meeting on Freightliner's stand and meet with the senior commercial team.
Freightliner operates 104 intermodal daily services over 37 direct routes nationwide, serving all the UK's major conurbations and carrying 81% of all rail borne maritime containers that enter the UK. The logistics company is renown throughout their customer base for their service and reliability of 98% on time delivery. The contract management teams they assign to each customer ensure each container is delivered where it's needed and when it's needed. Whether a customer wants to move one box, 1000, or 100,000 boxes, Freightliner can offer a flexible, reliable and efficient alternative to road.
Freightliner's fleet of over 300 in house road vehicles and an extensive port and terminal network, which is unrivalled by any other operator, ensure Freightliner can offer the complete logistics package. From port – to rail – to terminal and with final delivery by the in house road fleet, Freightliner offers a reliable port to door service.
Freightliner has a nationwide port and terminal network operating currently from Felixstowe, Southampton, Tilbury, Thamesport and Seaforth to 14 destinations across the country, 9 of which are the Freightliner owned terminals of Birmingham, Bristol, Cardiff, Cleveland, Coatbridge, Doncaster, Leeds, Liverpool and Manchester moving over 700,000 containers per year.
Freightliner is continually investing for the future in its port and terminal network to boost operations for the growing container market's needs. Recent investments include £9million for two new rail head gantry cranes at Southampton terminal. These new cranes are the largest and most efficient rail terminal cranes in the UK. They improved the lift rate and have the capability to span 13 roads in comparison to the 7 roads that the previous cranes could facilitate. As well as the additional height, the new cranes also provide multi movement capability being able to lift and turn at the same time at an unparalleled speed and efficiency. This investment follows similar schemes in Birmingham and Manchester over the last few years to update the cranes at two of the company's busiest inland terminals.
These investments maintain Freightliner as the only rail freight operator who has made meaningful capital expenditures in its inland terminal infrastructure, to expand and retain the level of provision and commitment that the Freightliner service provides and that customers rightly demand.
Other recent investments have included a new container handling I.T. system which has helped Freightliner to improve terminal and rail operations through a bespoke interface through improving planning of internal IMV movements, reducing downtime, improving ingate and outgate times and improved reliability across our operations. The project represents a detailed and revolutionary advancement in the capability of Freightliner to offer its customers a full e-interface for all of their needs, from overriding product delivery to self-billing. It is unique in the UK freight industry and continues to set Freightliner apart from its competition.
Combining the use of Freightliner's new 40ft twin platform wagons and PowerHaul locomotives Freightliner is able to maximise port and inland capacity, reduce CO2 emissions and increase network utilisation by increasing the amount of boxes that can be hauled on one service. Through the offer of the new ground-breaking 'Shortliner' services, Freightliner is able to increase the number of 40ft containers hauled per train by over 42% in comparison to a standard Class 66 service hauling 24 wagons, whilst still fulfilling the available 20ft market customer demand. The new wagons complement Freightliner's existing 60ft wagon fleet ensuring a dramatically improved utilisation of both 40ft and 20ft containers.
If you would like to speak to someone about how Freightliner can help you move your containers more efficiently or move you goods from road to rail or to book an appointment with Freightliner at Multimodal please contact Monica Callus at callusm (at) freightliner (dot) co (dot) uk or on 0207 200 3900.
About Freightliner
Previously part of British Rail, Freightliner was privatised in 1996 and has since increased turnover by over 180 percent. Initially only providing Intermodal services, the company has since expanded to have five subsidiary companies, all operating under Freightliner Group Limited.
Freightliner Limited is the UK's largest hauler of maritime containers, accounting for 20 percent of the total market share, and 80 percent of the rail-fed market.
Freightliner is officially the UK's most reliable rail freight operator with an industry-leading reliability of 98% on-time delivery. Operating over 102 daily services over 37 direct route offerings to and from the UK's deep sea ports to 14 destinations, 9 of which are terminals owned and operated by Freightliner. Freightliner uniquely provides a complete logistics package through the use of its in house road fleet of 300 vehicles with local road services, to move customers' containers on the first or last leg of a worldwide journey.
In 1999, Freightliner identified a significant opportunity to expand, and established Freightliner Heavy Haul Limited (FHH) to service the bulk rail freight industry. FHH now operates nationwide in the coal, aggregates, cement, specialist minerals, steel, and waste sectors, and has grown to a turnover of over £100m.
Since then, Freightliner Group has established new subsidiaries; Freightliner Maintenance Limited, a separate entity dedicated to the repair and maintenance of traction and rolling stock and international subsidiaries;
Freightliner PL Limited which began operations operations in 2007 in Poland After an initial coal contract, they expanded to offer services to the aggregates industry, and now operating cross border services between Germany and Poland.
Freightliner Australia Pty Limited, commenced operations in July 2009, transporting containerised cotton from Wee Waa to Port Botany on behalf of Namoi Cotton. In 2010 Freightliner Australia signed a long term contract with Xstrata Coal for the provision of rail haulage services from their Hunter Valley coal mines in New South Wales, Australia to the port of Newcastle.