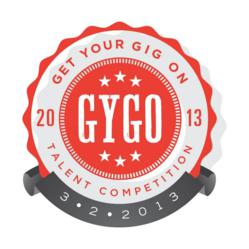 "...We are going to provide a venue where people can get on a stage, do what they do and hopefully convince the audience why they deserve to win."
Springfield, MO (PRWEB) November 30, 2012
The Gig Bureau, a national entertainment booking agency, has announced it will be producing Get Your Gig On, a regional talent competition to be held in the American Midwest. The first event is scheduled for March 2, 2013 from 7:00 PM to 10:00 PM at the Ramada Oasis Hotel and Convention Center in Springfield, MO. Auditions will be required to secure one of the 12 final acts for the live performance.
Three judges have been chosen to offer critiques and evaluations during the live competition. After the final performance, winners will be chosen by casting of votes from audience members in attendance. Mark Steiner, Co-Owner of The Gig Bureau, says, "The goal is to discover the best talent both here in Springfield and beyond. We are going to provide a venue where people can get on a stage, do what they do and hopefully convince the audience why they deserve to win."
The contest is open to talent from all age groups and types of entertainment. Prizes will be offered for the following categories: Best Child 12 & Under, Best Teen 13-18, Best Adult 19+, Best Overall Act.
Potential contestants can register for an audition at http://www.gigbureau.com/gygo. Auditions for the show will be held at the Ramada Oasis Hotel and Convention Center in Springfield, MO, January 20-22, 2013. Walk-in registrations will be accommodated on a first come, first serve basis.
For information on obtaining tickets please visit http://www.gigbureau.com/gygo in January 2013.
About The Gig Bureau
The Gig Bureau is the parent company of Book the Best, the celebrity booking agency with offices in Springfield, MO, and Wilmington, NC. They have worked with corporate clients ranging from Acura to Saks Fifth Avenue, and have booked all types of entertainment including Mythbusters, Kellie Pickler and The Flying Wallendas. In addition to celebrity bookings and talent management, The Gig Bureau operates GigSalad.com, the place to book more than 31,000 local and regional entertainers throughout the US and Canada. They can be reached at 866-768-GIGS and at gigbureau.com.