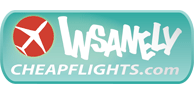 (PRWEB) November 30, 2012
Travel website Insanelycheapflights.com is announcing a sale on already deeply discounted tickets to and from Baltimore, MD. Travelers simply input the promo code "ICF20" to receive an instant $20 off of their ticket price. The sale is running for a limited time only and can be used along with other travel deals on the site. The sale is good for in-bound and out-bound flights going to and from Baltimore, MD.
Founder and CEO of InsanelyCheapFlights.com Steve Oliverez stated, "People are getting gouged by rising airfare ticket prices and fees. We already have some of the cheapest flights online, but we wanted to offer this instant savings to people travelling to and from Baltimore as a way to say thank you to our customers."
Baltimore is known as the tourism hotspot for the state of Maryland. Whether people are visiting for business or pleasure, there is something for everyone. Baltimore is famous for its exquisite waterfront, exciting professional sports, world-class museums and over three hundred years of history.
The historic Inner Harbor is one of the most photographed locations in the state and serves as the epicenter for Baltimore culture, dining, entertainment and nightlife. The Inner Harbor features the World Trade Center building that hovers over 400 feet directly on top of the harbor and features the best views of the city in every direction. The observation level is located on the famed 27th floor and has been revamped with exciting new exhibits since being built in 1977.
Sports enthusiasts will enjoy a visit to the famed Camden Yards baseball park. Baltimore is also home to the legendary icon Babe Ruth. Fans of America's Pastime can take in a game then visit the Orioles Hall of Fame Exhibit, The Babe Ruth Birthplace Museum as well as the 22,000 square foot Sports Legend Museum all within close proximity of Camden Yards.
About InsanelyCheapFlights.com
Founded in 2009, InsanelyCheapFlights.com is the web's one-stop site for cheap airline tickets to anywhere in the world. The website uses sophisticated search technology to scour the web for cheap airfare to some of the worlds' most popular destinations including Las Vegas, New York, Orlando and more. Customers can save even more by booking a hotel, room or vacation package. Visit them on the web at: http://insanelycheapflights.com/