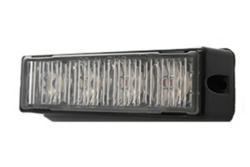 Brooklyn, NY (PRWEB) November 29, 2012
Police Lightz today officially announced the introduction of the 2nd Generation P4 Grill Light with a new design and new features.
Redesigned from the inside out, the latest generation of the P4 grill light has a new body style and new technology, making the already popular light head more dependable for users in a range of vehicles and conditions.
"The improvements made to the 2nd generation edition of our popular P4 Grill Light, make it product more user friendly. It provides the end user, regardless of whether they are a police officer or a construction worker a durable, affordable light head that provides plenty of warning light. In addition to the new body style we designed this new P4 to eliminate the radio interference that some users were experiencing in earlier generations. Our goal was to make an excellent product, superior." said Ariel Cohen, Director of Marketing for Police Lightz.
Popular in many industries, this new generation is built with a rectangle shaped housing, allowing it to fit easier in the grill and in other tight spots in the vehicle. The quality of the housing has also been improved to reflect the commitment to a long lasting, durable warning light. As with all new LED warning lights, the P4 utilizes Generation III LED bulbs, providing a longer lifespan for the user.
The 2nd Generation also has a long list of features including 19 self-contained flash patterns, a sync wire to allow for alternating or simultaneous flashing with other units, ability to adjust the brightness of the light head with programming for hi/lo power, a total of 5 wires for a simple set up and a design that is built to resist the impacts of weather and vibration. Each P4 module comes with four 1-watt LED elements that are magnified in brightness by the internal reflective lens.
The Police Lightz 2nd Generation P4 Grill Lights are available for 59.99. All Police Lightz products including the P4 can be purchased online through EmergencyCity.com
Whacker Technologies, Inc., is headquartered in Brooklyn, NY and is the parent company of Whacker Technologies, Police Lightz, and Emergency City. Whacker Technologies manufactures and sells interior and exterior police lighting, sirens and accessories for vehicles of many industries. For more information please visit http://www.whackerusa.com.