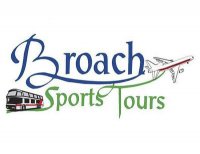 It is a spectacle that every dog lover should experience at least once in his or her lifetime.
Charlotte, NC (PRWEB) November 30, 2012
Broach Sports Tours is pleased to announce travel packages to the 2013 Westminster Kennel Club dog show.
The two-day event, considered the Super Bowl of dog shows, is scheduled for Feb. 11-12, 2013 in New York City.
This year's Westminster Dog Show has expanded to be the biggest show ever, with more breed judging and more dogs. There's another first: breed judging and benching will now take place during the afternoon at Piers 92/94 on the Upper West Side, then Best In Show judging will be held at night at Madison Square Garden, as in the past.
"This promises to be the best Westminster Dog Show ever," Broach Sports Tours president Tom Broach said. "It is a spectacle that every dog lover should experience at least once in his or her lifetime. The night session at Madison Square Garden is always the premier session, but dog lovers can actually get closer to the dogs during the afternoon sessions or even by visiting the hotel where the dogs are kept in the morning."
The package includes tickets for both days and both venues, transportation to all shows, three nights hotel accommodations at either the Marriott Marquis in Times Square or the Wingate by Wyndham across from Madison Square Garden, Westminster Kennel Club program, guided New York City tour, and a Broach Sports Tours host.
Prices start as low as $749 per person double occupancy, with options to upgrade to premier seating and add nights or other events such as Broadway plays or NBA games.
Broach Sports Tours, located in Charlotte, has been a leader in the sports and group travel industry since 1995. It specializes in Major League Baseball tours, tennis tours to all four Grand Slam tournaments, and golf travel packages which include the Masters, U.S. Open and Ryder Cup.
Broach Sports Tours prides itself in repeat business.
For more information, contact Melanie Hicks at 1-800-849-6345 or visit http://www.broachsportstours.com.