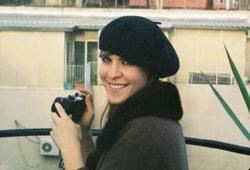 We are on the cusp of either destroying this sweet, green earth," Montgomery said during her talk there last January, "or revolutionizing the way we understand the rest of animate creation.
(PRWEB) November 30, 2012
Its first seed was something horrifying witnessed by a young woman from an apartment window in Damascus. Later there was a conversation between that woman and a famed naturalist and author at the winter residency of Southern New Hampshire University's MFA in Fiction and Nonfiction program. Now that dark seed is about to germinate into a very hopeful sort of children's book.
"I had just finished a talk and slide show on the sort of work that I do," said Sy Montogomery, an associate faculty member in that program, "when Emma LeBlanc came up to speak with me."
Montgomery is the author of 15 animal-oriented books for adults and children, among them "The Good Good Pig," a memoir about raising a pig (named Christopher Hogwood) that became an international bestseller. Among her many awards are the Children's Book Guild Nonfiction Award and the Henry Bergh Award for Nonfiction (given by the ASPCA for Humane Education). She is the originator of Houghton Mifflin's popular "Scientists in the Field" series of children's books, and several of her books have been made into National Geographic TV documentaries that she has scripted and narrated.
The SNHU MFA program's residencies are held at the Mountain View Grand Resort in Whitefield, NH. "We are on the cusp of either destroying this sweet, green earth," Montgomery said during her talk there last January, "or revolutionizing the way we understand the rest of animate creation. It's an important time to be writing about the connections we share with our fellow creatures."
LeBlanc, meanwhile, is a student working on a novel manuscript. A graduate of Brown University with a bachelor's in sociology—and fluent in Arabic—she is a co-founding member of the Makoto Photographic Agency, which is based in Damascus. Her journalism and photography have appeared in GQ, Le Monde, The New York Times, Slate, Syria Today, and a number of other venues. She is also a Rhodes Scholar working on a D.Phil. in social anthropology at Oxford.
LeBlanc went up to speak with Montgomery about their shared passion for animal welfare, and the conversation came around to an act of cruelty LeBlanc had recently witnessed—a group of Arab children torturing a puppy. LeBlanc rushed out to rescue the animal, but it had to be euthanized.
"We talked about how there is really no ingrained reverence for animal life in the Arab world," Montogmery said.
"And we wanted to find ways of celebrating the kinds of animals found in that world, and of highlighting stories of compassion and understanding," LeBlanc added.
That night, as Montgomery learned more about LeBlanc and her background, it occurred to her how well their combined skills might be suited to the production, say, of an Arabic-language children's book.
They stayed in contact after the residency, trading ideas for the book's story. In the course of their research they came across the Sahara Conservation Fund, most noted for its efforts to protect the addax, a small antelope once plentiful across the Sahara, now among the world's rarest and most endangered animals.
"We found the SCF originally because of its work in Algeria, an Arabic-speaking country," LeBlanc said. "But their Sahara project in Niger really lent itself to a book with a clear narrative and one that could include a lot of different animals, with some awesome adaptations to desert life."
Armed with an endorsement from John Newby, head of the SCF, Montgomery and LeBlanc met at the Boston office of Kate O'Sullivan, editor of Houghton Mifflin's "Scientists in the Field" series. "She loved the idea, and was particularly impressed with Emma—her photography, her ideas, everything," said Montgomery.
Houghton Mifflin was not so interested, however, in publishing in the Arab world. "Copyright infringement is very significant," LeBlanc explained. "You also have high rates of illiteracy and many families without money for books."
But the authors are undaunted, and in their contract have reserved for themselves the Arabic rights to a book whose working title is "Sahara Safari." Montgomery will write the text; LeBlanc will take the photographs and later translate the book into Arabic.
They planned to be in Niger this November, in pursuit of the addax, but on the advice of Newby, that has been postponed. "Six Westerners have recently been kidnapped and held for ransom there by Al-Qaeda," Montgomery said. "This is a fantastic opportunity, to go on an SCF expedition like this, but it might have to be in some other Saharan country."
LeBlanc hopes the original plan holds. "We would get to focus on a team of scientists that includes a Nigerian researcher," she said. "American children would get to see a story that shows Africans as something other than passive victims of famine or war. And we would hope eventually to get the book translated into local languages and into the hands of Nigerian children."
Diane Les Becquets, director of SNHU's MFA program, is delighted to see this sort of synergy at work. "It's the way Bell Labs became so innovative in the 1950s," she said. "You put a lot of smart people with different backgrounds into the same room, as we do at our residencies, and very interesting things happen."
LeBlanc agrees. "Because our MFA community is so open, accessible, and down to earth, it's easy to forget or take for granted just how brilliant and inspiring our fellow students, professors, and visiting writers are," she said. "The conversations, readings, workshops, hikes, swims, and late-night jam sessions are beautiful in themselves, but they are also the beginning of all sorts of new projects, inspirations, collaborations, and ideas."