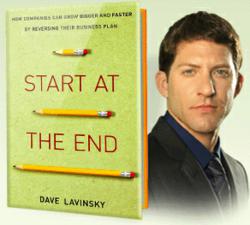 Los Angeles, CA (PRWEB) November 30, 2012
The new book, Start at the End: How Companies Can Grow Bigger and Faster By Reversing Their Business Plan, by Dave Lavinsky has received recognition as the #1 Amazon Best Selling book in the Small Business and Entrepreneur category. Lavinsky's book Start at the End also made the Amazon Bestseller list in Small Business and Entrepreneur the week of its official launch on November 15, 2012.
Author Dave Lavinsky wrote Start At The End, published by John Wiley & Sons, in order to help entrepreneurs and business owners succeed and to spread the word about the importance of planning. Start At The End motivates business owners to work less hours and spend more time on big picture company goals in a groundbreaking way. The book educates entrepreneurs and business owners on the need of a business plan and how to create one.
Dave Lavinsky states, "I'm so excited by how many entrepreneurs, business owners, and managers have bought the book. But now I ask that they all read it, and implement what they learn...so they can grow their businesses and our economy."
Dave Lavinsky is a serial entrepreneur who has helped over 500,000 small business owners raise over 2.5 billion in growth capital over the past decade with his business-planning firm, Growthink. Dave has an MBA from the Anderson School of Management at UCLA and earned his Bachelor's degree from the University of Virginia. He lives in New York with his wife and two children.
Growthink (http://www.growthink.com) helps entrepreneurs become more successful. Since 1999, Growthink has helped over 500,000 entrepreneurs to successfully start, grow and/or exit their companies through its suite of services and products that solve the key needs of entrepreneurs. These needs include expertly identifying and pursuing new opportunities, developing business plans, raising capital, building marketing and growth strategies, and developing and executing on exit plans. Growthink clients have successfully raised over 2.5 billion in growth capital over the past decade and continues to go beyond the business plan to impact today's innovators and job creators.