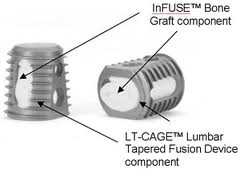 (PRWEB) November 30, 2012
On November 26, 2012, Medtronic, Inc. filed a Motion to Dismiss a whistleblower lawsuit that alleges the medical device manufacturer used a spine surgeon, who was being paid by the company, as an editor of a medical journal to promote its Infuse Bone growth device. The lawsuit was filed by Joanne Hartwig to recover damages arising out of alleged false claims presented and fraudulently concealed by Medtronic against Medicare, Medicaid, Tricare and various health care programs administered by the United States. (USA Ex Rel. Joanne Hartwig vs. Medtronic, Inc et.al, U.S. District Ct for S. District of Mississippi Jackson Div.)
According to the Complaint, Thomas Zdeblick, M.D., inventor of the LT-Cage which houses Medtronic's Infuse product, published articles promoting the Infuse Bone Graft device while acting as editor of a prominent medical journal, yet he was being paid by Medtronic. The lawsuit alleges that Zdeblick never disclosed his patent for the LT-Cage device that was the delivery vehicle for Medtronic's Infuse product, he fraudulently failed to disclose the potential for complication, and he failed to disclose that Medtronic paid him $23 million to promote the Infuse product. The allegations of the complaint outline how Medtronic's fraudulent scheme accomplished its sales goals and resulted in revenue ranging from $700 million to $900 million per year.
Interestingly, in December 2011, Medtronic agreed to pay $23.5 million to resolve another claim that alleged Medtronic violated the False Claims Act by using physician payments and kickbacks to persuade doctors to use the company's pacemakers and defibrillators, according to the U.S. Department of Justice.
A whistleblower lawsuit involving a False Claims Acts violation is usually filed by an individual (i.e. employee) who has knowledge of a company's activities that involve fraud. The False Claims Act allows the government to recover up to three times the amount of money lost as a result of the defendant's fraud and the "whistleblower" receives a portion of those funds.
Medtronic's Infuse Bone graft product is under great scrutiny because it was approved by the United States Food and Drug Administration (FDA) in 2002 for anterior approach spinal fusions in the lumbar spine (lower back) in patients with degenerative disc disease. However, through alleged fraud and illegal kickbacks, off-label use of the device has become a problem, as verified by the United States Senate Finance Committee. Off-label uses include insertion of Medtronic's Infuse Bone Graft in the cervical spine (neck) or the insertion of the device in lumbar fusions performed posteriorally (from the back).
Ennis & Ennis continues to offer free, nationwide, confidential consultations to patients who have suffered from a Medtronic Infuse Bone Graft device inserted into the cervical spine or inserted posteriorally into the lumbar spine. Contact the lawyers of Ennis & Ennis, P.A. today by calling toll free 1-800-856-6405 or by going to http://www.ennislaw.com and completing an online case evaluation.