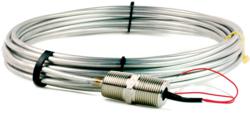 The temperature variation was overworking my control system. The averaging sensor solved that issue.
Minnetonka, MN (PRWEB) November 30, 2012
Many temperature applications can be solved with discrete single point measurements. When the measurement of interest is a tank, room, air duct or other large area, a single point measurement will not appropriately represent the temperature throughout the entire area. Averaging and Multi-point Sensors provide a truer picture of the temperature in these more complex and large volume applications.
Burns Engineering has highlighted various approaches to accurately measuring temperature in these unique temperature environments where gradients or dynamic thermal characteristics are often present. These insights are now available free in this new compendium Averaging and Multi-Point Temperature Measurement for Level, Air, and Bulk Materials.
Burns also offers Technical Papers highlight temperature measurement best practices.
About Burns Engineering:
Since 1960, Burns Engineering has been an industry leader in the design and manufacture of temperature measurement products for the Process, OEM and Metrology industries. Burns designs custom temperature measurement solutions to meet safety, process efficiency and product quality needs. Products include RTDs, Secondary SPRTs, Thermocouples, Thermowells, Transmitters and NVLAP Accredited Calibrations (Lab Code 200706). Learn more about Burns Engineering at http://www.burnsengineering.com or contact directly at info(at)burnsengineering(dot)com or 800-328-3871.