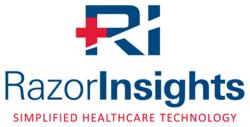 Kennesaw, Georgia (PRWEB) November 30, 2012
RazorInsights, a leading provider of health IT solutions for rural, critical-access and community hospitals, today announced that four more of its EHR clients have contracted to implement its financial management solution.
"We're very excited to have so many of our hospital clients anxious to upgrade to our ONE-Health System Edition," said Edward Nall, CEO of RazorInsights. "We were told from the beginning, 'you build it, and we'll buy it'."
"Our Health System Edition customers greatly benefit from having Financials and Clinicals on a single-database. This capability eliminates double data entry and streamlines the care process from registration all the way to billing. These hospitals also avoid dealing with multiple vendors for support. We enjoy simplifying things," he said.
According to RazorInsights, there are many other advantages to operating on a truly-integrated, single-database system:

System integrity is not compromised by interfacing disparate systems resulting in complete information in one system view regardless of user
Financial and clinical compliance enhanced as services are documented and billed in a single database environment.
Real-time information capture and dynamic clinical and financial record allows more timely finalization, coding and claims submission enhancing revenue-cycle speed
Eliminates manual reconciliation for maintaining charge master as clinical capabilities populate charge master for real-time setup and activation - eliminates the management of multiple systems
Provides real-time access to complete clinical record in appropriate medical record screens, a capability that is difficult to achieve in systems not organically designed on a single database model
CEO Edward Nall also noted that many of its competitors began with just a clinical or a financial system, and then acquired another company to complete their offerings. "In the end, these are separate platforms, and interfacing them together will always have drawbacks. We chose the longer path of building our system organically from the ground up, and as a result, our hospitals are benefiting from a far superior solution."
Florala Memorial Hospital in Florala, Alabama recently attested to Stage 1 Meaningful Use and is quite confident that RazorInsights' financial management solution will improve their workflow and bottom line. Doreen Bock, RN, COO/CNO at Florala Memorial Hospital states, "We are excited to be implementing the financial management system with RazorInsights. We have the EHR system with RazorInsights and we are confident we are going to be just as pleased with the financial system. As most of us in the healthcare world today struggle with constant challenges that we face, we need a system that helps us with accurate and timely financial management. We feel we are getting that system. It has been designed by people that have worked in the financial departments in a hospital, and they know what is needed to make financials efficient and less time consuming. We are thankful for the working relationship with RazorInsights and for the support that we have had during the implementation of EHR and the attestation for meaningful use."
ONE-Health System Edition is one of three editions being offered by RazorInsights. With an ambulatory solution in the final development stage, RazorInsights expects to debut the following editions as early as spring 2013.
ONE-CCR Edition (ONE-Electronic Health Record + Ambulatory EHR/PM)
ONE-Enterprise Edition (ONE-Electronic Health Record + Financials + Ambulatory EHR/PM)
About RazorInsights:
Based in Kennesaw, Georgia, RazorInsights is a dynamic healthcare information technology company. In keeping with the principle of Occam's Razor, they have created a simplified HIS solution for rural, critical-access, and community hospitals. Introducing ONE — a single-database, cloud solution offering a simple user experience with cutting-edge clinical tools and industry-standardized data. Hospitals can expect to improve their performance and bottom line with ONE from RazorInsights. For more information, visit razorinsights.com or call 770-308-4111.