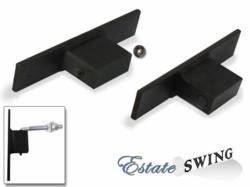 ...the hinge positioning is one of those improvements that in hindsight is a no brainer.
Tampa, FL (PRWEB) November 30, 2012
Estate Swing, a brand specializing in "problem solving" products for the driveway gate and gate automation industry, have released specialized hinges designed for safety. In addition to the safety factor the hinges also have an altered design for maximization of ball bearing movement.
The issue of driveway gate safety for swing gates lies in the pinch point that is created when the gate swings open. This is much like a door hinge. Many have experienced the pinch of a finger getting caught in the opening between the door frame and the door. The issue however with a gate is the extreme length of a gate verses a door multiplies the pressure exerted on the pinch point making the injury much more severe. The Estate Swing safety hinge offset the pivot point o f the hinge from the face of the hinge barrel. Combined with the Estate Swing instructions for offsetting the mounting hole for the hinge bolt on the gate frame toward the rear face of the gate eliminates the pinch point without a large gap between post and gate.
Joel Dimeo, head of the technical department at GateCrafters.com, a retailer of the Estate Swing hinge, states, "This change to the hinge positioning is one of those improvements that in hindsight is a no brainer. No one wants to experience what it is link to get your finger pinched in between the driveway gate and the post, and with the Estate Swing hinge no one will have to."
In addition to the safety change there was a change in the bottom of the hinge barrel and how the ball bearing sits within it. Typically hinges are indented in the center when the grease fitting is. This allows room for the grease to enter the hinge barrel below the ball bearing. The down side of this is the bearing does not rotate inside the barrel. This eliminates the friction reducing advantage a ball bearing is supposed to provide. The patent pending design of this hinge is a flat bottom to the hinge barrel and an offset grease fitting. This flat surface will allow the ball bearing to roll with the pivot of the hinge pin in the barrel.
For additional information on distribution of the Estate Swing Estate Swing safety hinge, contact David Rivera at Estate Swing, a brand of Sequoia Brands, Inc. For retail purchase visit http://www.gatecrafters.com, http://www.amazon.com or http://www.sears.com.
About Sequoia Brands, inc:
Sequoia Brands, inc. is a Florida corporation that owns and manages multiple specialty brands including Estate Swing gate automation and access control equipment.