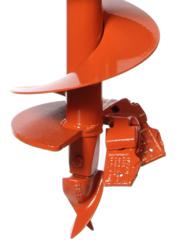 The 4450 Series features advances that speed up the installation process and greatly reduce the risk of damage to the earth auger.
Owatonna, Minn. (PRWEB) November 30, 2012
General Equipment Company has announced its new 4450 Series earth augers, representing the most significant change in boring head design and auger construction for use with hand-held hole digging equipment in the last 50 years. The 4450 Series features a new, simpler configuration for attaching the screw bit, which speeds up the installation process and greatly reduces the risk of damage to the earth auger.
Unlike traditional earth auger designs used by all manufacturers, General Equipment's 4450 Series does not include a drive lug for attaching the screw bit. Instead, the company's new screw bit design has a male shaft, which slides into the end of the earth auger. This helps to eliminate the chance of the screw bit breaking, as well as the resulting damage to the auger.
Additionally, the 4450 Series earth augers are cast into a one-piece, integral assembly from steel to further increase service life. Tooth position and location on the screw bits has also been improved using General Equipment's extensive experience in auger design, along with the help of sophisticated computer 3D simulation.
"The 4450 Series provides a solution to many of the maintenance issues associated with traditional hand-held auger designs," said Dennis Von Ruden, president of General Equipment Company. "This helps make it ideal for a variety of industries, including rental, fencing, landscaping and general construction."
Optional tooth configurations are available to meet a wide range of job applications in different soil types and classifications.
In business for more than 50 years, General Equipment Company is a family-owned manufacturer of earth augers, ventilation blowers, asphalt cutters and surface preparation equipment. For more information, contact General Equipment Co., 620 Alexander Drive S.W., Owatonna, MN 55060, call 507-451-5510 or 800-533-0524, fax 507-451-5511 or 877-344-4375(DIGGER5), or visit the website at http://www.generalequip.com.