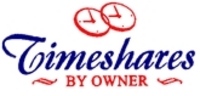 Orlando, FL (PRWEB) November 30, 2012
As the premiere timeshare resale and rental marketing company in the world, Timeshares By Owner is always striving for excellence and taking opportunities to introduce themselves to the vacationing public. It is in this vein that Timeshares By Owner takes pride in the accolades that they have been awarded over the years and are constantly receiving from the timeshare and vacationing industry.
With 14 years under their belt, Timeshares By Owner is gearing up for their 15th Anniversary. After opening their doors in 1998, the company paved the way in the industry for the marketing of timeshare properties by their owners instead of having to work with the resorts to promote the availability of their properties. Timeshares By Owner is proud to help owners get into contact with anxious renters and buyers who are interested in being provided with the means to enjoy an affordable vacation with their families at five-star locations that make time away from it all feel like home.
The Corporate Office of Timeshares By Owner is located in a prime vacation location just outside the gates of Walt Disney World in Lake Buena Vista, Florida. Orlando, Florida is the number one vacation destination in the United States and the number one timeshares location in the world. Timeshares By Owner's beautiful walk-in office provides a presence to timeshare owners that allows them to feel comfortable with the company. The fully staffed customer service team and rental department is available to assist walk-in clients and those calling in about renting, selling, or purchasing another's property; always there to provide guidance in taking the next step toward that dream vacation.
Now is the chance to book great vacations. Take advantage of these fantastic opportunities at timesharesbyowner.com or contact the Timeshares By Owner Concierge Service and negotiate that deal directly. Representatives are available to assist renters at 1-888-707-TIME(8463).
ARDA, the American Resort Development Association, is a Washington D.C. based trade association that represents the vacation ownership and resort development industries. Timeshares By Owner is a proud member of ARDA and has been since 2000. This resort marketing company was recognized by ARDA in 2001 and received ARDA's Silver Award for their rack brochure. This was presented to Timeshares By Owner in recognition of their outstanding achievement and exemplary performance on behalf of the community of interests represented by the American Resort Development Association.
Some of the most amazing things about Timeshares By Owner are the features that set them apart from the rest of those representing the industry. This premiere timeshare resale and rental company is the only establishment in the industry to have their own weekly radio show, Vacation Time, Live! Broadcast through Clear Channel Communications, the largest multimedia company in the United States, Vacation Time, Live! can be heard all over the world through iheartradio, a mobile application available for handheld devices and over the internet, as well as through the radio on AM 540 and 104.5 FM WFLA. Tune in to hear broadcasts live from tourist destinations throughout the state such as, SeaWorld, Universal Orlando, Hardrock Café, and many more. Timeshares By Owner's one goal is to make the vacationing public aware of their ability to visit the inventory at http://www.timesharesbyowner.com to easily plan a vacation by negotiating directly with owner of a timeshare property. Their objective is to educate the consumer while providing a service that will make the vacationer's life easier.
Another exclusive feature provided by Timeshares By Owner is the monthly magazine publication, The Timeshare Trader. The magazine is distributed on International Drive in Orlando, Florida; Las Vegas on the strip in Nevada; Vale, Colorado; and numerous other major tourist destinations throughout the country. Timeshares By Owner looks at their magazine as a walking billboard; even if a client chooses to utilize Timeshares By Owner's services for their own property, the magazine is picked up by thousands of tourists each day, who then become knowledgeable about http://www.timesharesbyowner.com. This exposure to Timeshares By Owner's inventory in The Timeshares Trader carries a broad reach and is very effective.
These distinctions are just a few of the amazing honors that have been bestowed upon Timeshares By Owner in the years of their growth. They invite everyone to visit their website and become more familiar with the company that can change the way vacationers think about timeshares.
ABOUT TIMESHARES BY OWNER®
Timeshare By Owner® has been in business for over 14 years and is dedicated to helping timeshare owners sell or rent their timeshares and to helping vacationers find their perfect vacations! For more information on Advertising Platforms for motivated sellers and renters, contact Timeshares By Owner® at 888.707.TIME(8463), or email us at info(at)timesharesbyowner(dot)com.