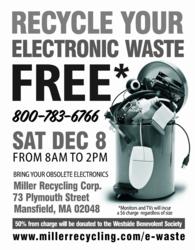 Solutions for a Healthy Planet
Mansfield, Massachusetts (PRWEB) November 30, 2012
Miller Recycling's E-Waste Recycling Program has been in effect for about a year, and to date has recycling approximately 75-80 Tons of electronic scrap. It is well known that one of the fastest growing segments of the recycling industry is associated with electronic scrap or "E-Waste". This includes items such as computers, monitors, TVs, power supplies, telephones (both land based & mobile), as well as the miscellaneous items associated with these components.
Safely recycling electronic items is more important than just about any other recyclable commodity. This is due to the low cost and often negative value of the components contained within these electronic products. For example, monitors & TVs typically have no value and are banned from landfills and incinerators due to lead content contained within the glass. If these are broken and disposed of improperly they can cause potential damage to the environment.
Did you know a standard computer is made of about 30+ different types of material, such as 6-8 different grades of plastics, steel, aluminum, and many other metals? Each item has to be disassembled into its basic element to obtain the most value, and can make efficient recycling costly and time consuming.
Miller Recycling's goal is to conform to strict guidelines when marketing this type of scrap. They partner with only fully licensed and reputable companies that adhere to strict environmental guidelines, not only at their location but also with any downstream vendors & consumers. Miller Recycling also adheres to the "NO EXPORT" policy for intact computers, monitors, TV's and components.
Join Miller Recycling Corporation in Mansfield, MA at their second E-Waste recycling event on December 8th 2012 from 8:00 am to 2:00 pm. http://www.millerrecycling.com/materials/e-waste/
Please call 1-800-783-6766 for additional information and details of our ongoing E-Waste Recycling Program. Also visit our web site at http://www.millerrecycling.com for additional information on our services.
About Miller Recycling Corporation
Operating since 1940, Miller Recycling is a third generation company with the experience required to assist with all electronics, paper, plastics, and metals recycling requirements. Northeast Data Destruction is our NAID "AAA" Certified confidential shredding division.