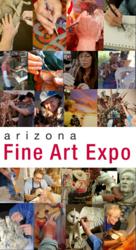 Scottsdale, AZ (PRWEB) November 30, 2012
Who are these sculptors? Where do they come from? What drives and inspires them? They are passionate about their art, medium of choice and watching their undefined beginnings develop into a finished gift of art.
Sculptors are a breed of their own. They embrace a deep loyalty to their art form, they are dedicated and their sense of self makes them strive for perfection in ever piece they lay a hand on and every sculpture they complete.
They come from Tucson, Scottsdale, Phoenix and surrounding cities, Colorado, Pennsylvania, California, Utah, Washington, Oregon, Texas, South Dakota, Indiana, Mexico and Africa. The Arizona Fine Art EXPO's line up of sculptors for 2013 are: Ernie Apodaca, Carlos Ayala, Dave Barkby, Dwight Bennett, Craig Bergsgaard, Jane Boggs, Suzanne Brown, Jess Davila, Scott Donars, Cynthia Downs-Apodaca, Steve Failows, Deveren B. Farley, Phil Feaster, Diana Gilmore, Mark Hughes, Lorene Ireland, Ben Kinne, Greg Kinne, Jeff Laing, Tom Martin, Anthony Martin, John Montoya, Lynnette Moody, Lara Moore, Gene Myers, Jason Napier, Isabelle Posillico, Lynette Power, Jonah Runyanga, Heather Soderberg, John Soderberg, Misty Soderberg, Debra Steidel, Hal Stewart, Ron Stewart, Charles Taube, Dave Venell, Roger Wermers and Victor Yurivilca.
The Arizona Fine Art EXPO offers attendees the opportunity to interact with these sculptors, watch them work in their studios, return to see the developmental stages of the pieces and enjoy all their exhibited finished gifts of arts. Learn about their backgrounds, their lives, their desires and what makes them tick.
The Arizona Fine Art EXPO happens only once a year and runs for ten weeks, January 10th to March 24th, from 10am to 6pm for seventy-four straight days of "Art Adventure". "Every year patrons walk away from the show raving about the quality of art, friendliness of the artists and the special EXPO ambiance," said Judith Combs, President and CEO of the award-winning Thunderbird Artists. "It is a rare opportunity to find this caliber of artists all in one gathering."
Patrons take pleasure in the peacefulness of wandering throughout the 2-acre sculpture garden with courtyard paths and lovely bridges, sponsored by the Iron Mountain Bridge Company, that intersect and cross over flowing water, stones, and sandy paths with sculptures that grace the paths and garden trails. The Koi pond is a patron favorite sponsored by The Pond Gnome. Watch the colorful Koi and other species of fish swimming and playing under the cascading, splashing waters falling from natural rocks. Patrons love the serene, whispering sounds of the artists' water fountains adding that special ambiance that visitors have become accustomed to when visiting the Arizona Fine Art EXPO. Weekends come alive with musical entertainment. Enjoy dramatic abstract demonstrations to music, garden parties, artists' book signings, plein aire painting and much more!
Enjoy the charming Café de EXPO where patrons enjoy eating indoors surrounded by working artists or out in the garden surrounded by spectacular sculptures and the tranquil sounds of flowing waterfalls.
The Arizona Fine Art EXPO is located 26540 N. Scottsdale Road (at the southwest corner of Jomax and Scottsdale Roads), just 5 miles south of Carefree and 5 miles north of Loop 101.
Admission $10.00 for a ten week season pass. Military & Seniors: $8.00