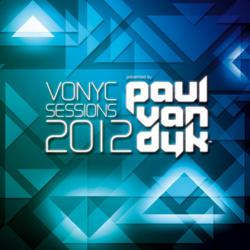 Life is busy for all of us. The annual VONYC Sessions provides that rarest of opportunities - a moment to look back and relive some truly great memories through the power of the year's best music.
New York, NY (PRWEB) November 30, 2012
Twenty-twelve has been a year to remember for electronic musician Paul van Dyk. During that time, he completed production on his long-awaited sixth album, which in turn unlocked a new trove of PvD music. He has utilized this music to power his extraordinary Evolution stage performances and his radio show, VONYC Sessions. The VONYC Sessions 2012 (VANDIT) mix compilation spans 31 tracks handpicked by PvD as the brightest stars in the musical galaxy of 2012.
Said Paul van Dyk of the VONYC Sessions 2012 compilation, "Life is busy for all of us. Whatever we do, there's seldom enough chance to think about what happened last month, let alone a whole year. For me, the annual VONYC Sessions provides that rarest of opportunities - a moment to look back and relive some truly great memories through the power of its best music. I hope you enjoy listening as much as I enjoyed compiling and mixing it!"
VONYC Sessions 2012 includes tracks from Cosmic Gate, Orjan Nilsen, Tritonal, Judge Jules and van Dyk himself. The track selection is based on tunes that have generated the most heat on van Dyk's dancefloors and created the most buzz on his VONYC Sessions radio show.
Heading straight into the thick of the action, disc-1 kicks with the whopping drum structure of Orjan Nilsen's "Endymion," Lisa Lashes' techy "The Bends," and Protoculture's crowd-wowing "Cobalt." Working the mix in masterful peaks and drops, van Dyk tempers its tone with the stargazing sounds of Ost & Meyer's "Safari" and the celestial magnetism of Starshifters' "Driveby." There are the razor-sharp synths of Judge Jules' "The Attack," (a track cited by van Dyk as his "favorite track of 2012"), Maarten de Jong's blood-pumping "RAW," and Sean Tyas and Giuseppe Ottaviani's spirited "Arcobaleno."
With "Stone Pony," Las Salinas strike an early harmonic note on disc-2. PvD illuminates JES' vocal range on Cosmic Gate's "Flying Blind" and channels trancestep with Tritonal's "Slave." More melodic vistas abound with Jaco's epic "Malaysia" and the dubstep breakdown and killer hook of Jules and Dale Corderoy's "Give Me A Reason." The poignant vocals of Amba Shepherd on Giuseppe Ottaviani's "Lost For Words" is explosive.
Of course, the VONYC Sessions' tracklists have been supremely stocked with PvD's own material. From the beauty of "The Ocean" to the uplifting "Eternity," van Dyk's signature sound threads the two discs together. From the hugely popular "Verano" – here in its "Such A Feeling" vocal form – to the ache of "I Don't Deserve You" feat. Plumb, to the lovers' lament of Mix-2's "Lost In Berlin, this is the soundtrack of an incredible year.
Tracklist CD 1
Paul van Dyk ft. Plumb I Don't Deserve You Remix Mashup
Manuel De La Mare & Alex Kenji Acid as 303 Original Club Mix
Orjan Nilsen Endymion Original Mix
Maarten de Jong Raw Original Mix
Lisa Lashes The Bends Heatbeat Remix
Sean Tyas & Giuseppe Ottaviani Arcobaleno Classic Mix
Ost & Meyer Safari Original Mix
Andrew Bayer & Matt Lange ft. Kerry Leva In And Out Of Phase Original Mix
Jerome Isma-ae ft. Zoo Army My Breath Has Been Taken Instrumental Mix
Judge Jules The Attack Original Mix
F.L.X. Initiation Original Mix
Dave Silcox & Matt Nash ft. Chris Warne Change My World Original Mix
Paul van Dyk ft. Adam Young Eternity Paul van Dyk & Alex M.O.R.P.H. Club Mix
Protoculture Cobalt Original Mix
Suncatcher & Mihai M pres. Starshifters Driveby Original Mix
Tracklist CD 2
Forgotten ft. Blackfeel White Earth Abstract Vision & Elite Electronic Dub Mix
Cosmic Gate & JES Flying Blind Tom Fall Remix
Egorythm & Marsbeing Inhale Original Mix
Paul van Dyk ft. Austin Leeds & Elijah King Such A Feeling Alex M.O.R.P.H. Remix
Las Salinas Stone Pony Original Mix
Sequentia & Jaco Crossfire Original Mix
Genix Moments Original Mix
Tritonal Slave Ben Gold Club Dub
Corderoy & Judge Jules Give Me A Reason Original Mix
Nitrous Oxide Tiburon Original Mix
Noah Neiman They Have Laser Eyes Original Mix
Jaco Malaysia Original Mix
Stonevalley ft. Shannon Hurley Something To Say Johan Malmgren Dub Remix
Giuseppe Ottaviani ft. Amba Shepherd Lost For Words Club Mix
Paul van Dyk ft. Arty The Ocean Las Salinas Remix
Paul van Dyk ft. Michelle Leonard Lost In Berlin Giuseppe Ottaviani Remix
ARMADA MUSIC media contact ROW: MARIJE DE KONINK, +31-20-40-80-846, Marije(at)ArmadaMusic(dot)nl.
ARMADA MUSIC media contact NORTH AMERICA: EMILY TAN MEDIA RELATIONS, +1(917) 318-3758, EmilyEmilyTan(at)aol(dot)com.
VANDIT media contact ROW: TIM STARK, tim(at)starkprofilespr(dot)co.uk.
# # #