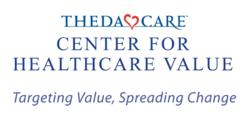 "This country is in dire need of a change in the way we pay for healthcare, and we believe this forum is a way to achieve that." --Helen Zak, president and COO of the ThedaCare Center for Healthcare Value
Appleton, WI (PRWEB) November 30, 2012
The ThedaCare Center for Healthcare Value recently launched a new online forum highlighting healthcare payment experiments across the country. The forum is designed to be an interactive tool and resource that brings together information, insights and results from healthcare leaders engaging in innovative payment redesign initiatives.
"The healthcare industry is going through major changes, and payment is a big part of that," said Center President and COO Helen Zak. "This forum serves as a place to discuss ongoing pilot initiatives and what the industry is doing to restructure payment methods."
The forum allows leaders to share success stories, challenges and lessons learned. Readers have a chance to comment, ask questions and see working documents that help them apply lessons to their own work.
"An online forum like this is badly needed and will provide exposure to invaluable insights about healthcare in America," said John Torinus, a Center board member and CEO of Serigraph, a company known for its innovative approach to managing employee healthcare.
In addition to updates from the Center, the forum includes real life stories from guest contributors such as the Partnership for Healthcare Payment Reform in Wisconsin and the DIAMOND program in Minnesota.
"It was a great opportunity to share our progress on the DIAMOND program with those who may not yet be aware of our work," said Pam Pietruszewski, a health care consultant at the Institute for Clinical Systems Improvement and the DIAMOND program.
Insights from industry leaders like Karen Timberlake, Harold Miller and Francois de Brantes also will be featured in the forum.
"The country is in dire need of a change in the way we pay for healthcare, and we believe this forum is a way to collaborate and learn from each other to achieve that," Zak said.
Healthcare leaders who are involved with payment work are highly encouraged to submit guest posts. To learn more about submitting a post, contact Nicole Singer at nsinger(at)blmpr.com.
ThedaCare Center for Healthcare Value
The ThedaCare Center for Healthcare Value is transforming the healthcare industry to deliver higher value through experiments, collaboration and education that integrate three interdependent components: delivery, transparency and payment. In these areas, the Center spreads learning and accelerates improvement. Learn more at: http://www.createvalue.org.
-30-