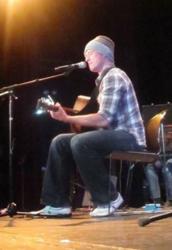 To celebrate Christmas this year, we will dive into the themes of faith, hope and love from a universal perspective.
Grand Haven, Michigan (PRWEB) November 30, 2012
Ian Lawton of SoulSeeds will explore the theme of faith from a universal perspective this week at C3 Exchange. As an inclusive spiritual community, C3 attracts people of all faiths and no faith who are interested in exploring what we have in common, and how we can make ourselves, and the world a better place.
The community deals with contemporary issues, discussing the latest scientific discoveries, human rights, green energy, LBGT rights, and local, national and world events. They focus on actions they can take to improve their local communities. C3's center of interest is on Values vs. Beliefs, and Spirituality vs. Dogma, and Activism vs Apathy.
Music will be presented by Singer/Songwriter Josh Rose. Residing in Ada, with his wife and daughter, Josh is a well known figure in the West Michigan area. As a folk singer, his lyrics speak of the people he's known, the loves he's lost, the places he's been.
Join us at C3 Exchange on Sunday morning at 10:00AM at the Grand Haven Community Center in Grand Haven, Michigan to hear Ian Lawton and Josh Rose. Dress is casual, all are welcome. Child care is available. 9:00 AM meetings on various topics occur in satellite rooms and are open to guests.
C3 Exchange is an Inclusive Spiritual Community for people of all faiths and no faith. Office address is 208 Franklin, Grand Haven, MI 49417. Phone is 616-842-1985. The office is open Mon - Th 10AM - 3PM. Meetings are held on Sundays at the Grand Haven Community Center. Ian Lawton, Executive Director and Speaker, Brian Vander Ark is the Music Director.