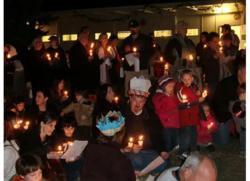 "We're proud of the students' work to support humanitarian aid to Guatemala, all our eco-friendly activities at the fair, and that we provide an opportunity for parents and children to come to our school and enjoy wholesome, old-fashioned fun!" Lynn Kern
northridge, ca (PRWEB) November 29, 2012
Highland Hall Waldorf School will host its annual Holiday Winter Faire this Saturday, December 1st, from 12-5. A candle lighting ceremony follows the Faire at 5:15. This German themed event is family friendly and open to the public; admission is free. The Faire will feature German food, eco-friendly crafts for all ages, acoustic music, and storytelling. Fundraising for Guatemalan Earthquake Relief by the students of Highland Hall is another aspect of the Faire.
"The faire has always been enjoyed by families from the greater San Fernando Valley, as well as our own Highland Hall community, because it is always so very beautiful," says Nina Dorr, third grade parent and chair of the school faire. "This year we wanted to create an old-fashioned European holiday village feel, so I reached back to my own Alpine roots to add some authentic German flavor...literally!"
Along with class-sponsored homemade food, the faire will sell German specialties including original Bratwurst and Sauerkraut, Waffles, Cocoa, Gingerbread, which the children will decorate, and non-alcoholic Gluehwein.
"We also want to minimize waste by incorporating eco-friendly activities and re-useable or compostable decorations and food service items," adds Highland Hall's Parent Association President, Melani Gold Friedman. All the cutlery and paper goods will be are compostable.
Student and parent performers from both the school and the Waldorf Institute of Southern California(WISC) will perform acoustically. Items for purchase in the fair's "Angel Room" and "Gift Bazaar," for children and adults respectively, are parent-donated handmade or gently used items, and include woodless stationary items made from factory rag remnants donated by Soolip. Silks dyed with flower petals and plants by the children from grades 1-6 will be available in the bazaar as part of a silent auction.
Other eco-friendly shopping opportunities will be offered by artisan vendors who work with natural materials. These include handmade jewelry from Designs by Melissa, felted wool angels by Nushkie Design and decorative and houseware items by Joan Newton Pottery.
Nitza Bernard, the school's biodynamic farmer will sell organic sprouts and hold workshops sponsored by the Highland Hall Garden Gnome Society. The workshops will be on sprouting organic seeds and creating drought tolerant succulent mini-gardens.
Children and adults will enjoy natural crafts, designing and making their own pomanders from oranges and cloves, hand-spun jump ropes, beeswax dipped candles and leaf decorations, paper grocery bag and duct tape garlands and wallets, and Hanukah menorahs from wood scraps.
After the faire decorations such as evergreen garlands will be added to the school's compost. Additionally, compost bins will be set up near food stations at the fair. Yields from these will nourish Highland Hall's biodynamic, organic garden beds and orchard.
"You won't find a plastic water bottle on campus Saturday," says Gold Friedman. "Bring your own cup and we'll treat you to free filtered water instead!"
In response to 7.4-magnitude earthquake in Guatemala, seventh graders, other students and teachers at Highland Hall will hold a "Regalos de Corazon para Navidad (Gifts from the Heart for Christmas) Earthquake Relief Bake Sale and Toy Drive" during the fair to help children in affected areas.
"We seek to be a model of cultural diversity and to raise a sense of environmental responsibility and volunteerism among our students," says Highland Hall's Administrative Director, Lynn Kern. "Fostering a sense of self as part of the global human experience is integral to the values of Waldorf education, and so is social action. We're proud of the students' work to support humanitarian aid to Guatemala, all our eco-friendly activities at the fair, and that we provide an opportunity for parents and children to come to our school and enjoy wholesome, old-fashioned fun!"
The Annual Holiday Winter Faire will be held rain or shine at Highland Hall Waldorf School, 17100 Superior Street, Northridge, CA, 91325 this Saturday, December 1 from 12-5pm. The faire is open to the public and admission is free. There is ample campus and unrestricted street parking. For more information, go to http://www.highlandhall.org or call 818-349-1394.
Highland Hall, located in Northridge, CA and founded in 1955, exemplifies the rich educational traditions of the Waldorf School movement. Its unique approach to learning successfully addresses the changing needs and capacities of children at each stage of development from PreK through High School. Fully 98% of its high school graduates move on to renowned colleges and universities; 42% of Waldorf graduates pursue college majors in mathematics or science. Featuring a curriculum of academically challenging lessons infused with arts and hands-on learning, Highland Hall provides students with a solid academic foundation, the ability to think creatively, a sympathetic interest in the world, self-confidence, and an abiding moral purpose.