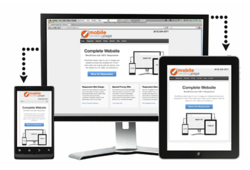 Our eCommerce option lets our clients manage their entire online sales operation, including managing orders, securely collecting payments, and arranging shipping.
Minneapolis, MN (PRWEB) November 29, 2012
Mobile Landing Page, a component of the inbound marketing company Spark Logix Studios, evolved out of Spark Logix's desire to provide cost-effective mobile web solutions for small business that do not need a highly customized website. Mobile Landing Page keeps prices low by offering a handful of standardized packages, but customers still have the option to personalize their pages, pick and choose design elements, and, most recently, add eCommerce functionality.
The eCommerce add-on gives Mobile Landing Page's clients the ability to sell everything from digital downloads, to services, to physical products directly from their site. Manager Ben Heath described it as "everything a small business needs to sell online."
"Our eCommerce option is fully comprehensive," he explained. "Through the program, our clients can manage their entire online sales operation, including managing orders, securely collecting payments, and arranging shipping. It is even intelligent enough to accommodate product variations and setup recurring payments or subscriptions."
As with the other pages the company offers, customers can choose the layout and behaviors of their eCommerce store according to their preferences and what best suits the items or services they are selling. Additionally, to make it easier for business owners to manage their store, the platform is intended to be user-friendly for both shoppers and administrators, and because it is built using responsive web design, Mobile Landing Page team members assure the add-on can accommodate both desktop and mobile users.
"We adopted responsive web design because we know how important it is for our clients to connect with all consumers, whether they're sitting behind a computer or on a mobile device -- a responsively built website makes that possible," Owner Rob Benson said. "Naturally, an eCommerce store should be equally as flexible, so we threw it into the mix as well."
As the number of smartphone and tablet users continues to rise, many businesses are looking for ways to stay relevant in the mobile marketplace, and Mobile Landing Page hopes to be that catalyst by giving even small, budget-minded businesses the opportunity to have a strong mobile presence and a quality online store consumers can access anywhere.
According to Heath, "Online consumers buy from trustworthy, professional-looking sites that work well on their device, and that's exactly the type of pages and eCommerce stores we provide at Mobile Landing Page."
For pricing information and to learn more about Mobile Landing Page's new eCommerce add-on, visit the company's website.