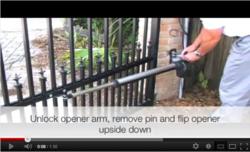 ...knowledge takes time and dedication to develop; and that's where we stay ahead of others.
Odessa, FL (PRWEB) November 30, 2012
GateCrafters.com has been the leading source for Do-It-Yourself gate openers and driveway gates online since 2002. One of the services touted on the website is their 7 day technical assistance and customized manuals. They have also long made custom instructional videos to assist their customers with technical explanations. They are announcing that starting 2013 they will hold live training seminars for some of the more common topics they regularly discuss in technical calls.
The seminars will be advertised through Facebook, Twitter and the website. Each seminar will be recorded as well and posted on youtube.com for later viewing by other driveway gate and gate opener customers. GateCrafters.com states that customers will have the ability to give live questions for the technicians doing the demonstrations.
Matthew Raab, vice president of Web Direct Brands, Inc. (GateCrafters.com parent corporation) says, "The key to the success of all of our websites has always been knowledge of our products above and beyond expectations. Service, price and availability are important but reproducible. However product knowledge takes time and dedication to develop; and that's where we stay ahead of others. Another challenge however is sharing the knowledge in an easy and accessible format; and we feel live online tutorials are a great outlet for teaching."
Online tutorials and classrooms are becoming a popular method for all areas of information sharing. Over the past few years there has been a large increase in the availability of online educational courses. Many companies are also utilizing this format for internal tasks such as meetings.
For additional information on GateCrafters.com tutorials, contact Joel Dimeo at GateCrafters.com, a brand of Web Direct Brands, Inc.
About GateCrafters.com:
GateCrafters.com is part of Web Direct Brands, Inc., a Florida corporation that owns and manages multiple specialty websites focusing mainly on the DIY community and products.