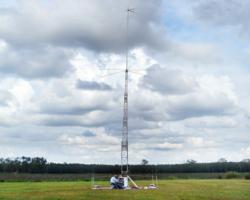 The system is easily transportable from depot to deployment site by air or commercial carrier
Greenville, NC (PRWEB) November 30, 2012
The LBA Technology unit of LBA Group, Inc. has introduced a transportable AM broadcast antenna system that greatly extends the possibilities of mission critical and emergency AM broadcasting. Though applicable to commercial as well as military uses, the system was specifically designed for armed forces personnel to rapidly deploy psyops broadcasting in the field, and for FEMA emergency fast response AM broadcasting. LBA also supplies a complete TGR-50EHD™ system with transmitter, power source, and program origination modules.
The TGR-50EHD™ is a medium wave man-packable antenna tower that produces stable, efficient local ground wave coverage. The source signal may between 500 and 1800 kHz at a typical power of 1000 watts. When its four telescoping aluminum tower sections are manually extended, the TGR-50EHD™ is 50 feet tall. An antenna tuning unit is integral with the system, as are 60 ground radial wires radiating from the base. More at http://www.lbagroup.com/technology/tup3.php.
The system is easily transportable from depot to deployment site by air or commercial carrier for logistics convenience. Movement on site requires no equipment and the TGR-50EHD™ may typically be deployed by three people in under three hours. This far exceeds the functional convenience of any other means of achieving area AM coverage.
The TGR-50EHD™ employs existing LBA proprietary TuniPole™ antenna technology including its Tunipole™ folded unipole technology; with additional patents pending. Besides its possible use in homeland security and military operations, the TGR-50EHD™ also has nonmilitary application as a standby antenna for AM broadcast stations, or for deployment for community AM broadcasting where conventional tower construction is not feasible. It also can be supplied for lower frequency use as an emergency or temporary antenna for NAVTEX, DGPS, and other critical medium frequency (MF) navigational applications.

About LBA Group Inc.
LBA Group, Inc. has 50 years of experience in providing electromagnetic protection for industrial and telecommunications infrastructure assets. It is comprised of LBA Technology, Inc., a leading manufacturer and integrator of radio frequency systems, lightning protection, and EMC equipment for broadcast, industrial, and government users worldwide; the professional engineering consultancy Lawrence Behr Associates, Inc.; and LBA University, Inc., providing on-site and on-line professional safety training. The companies are based in Greenville, N.C., USA.