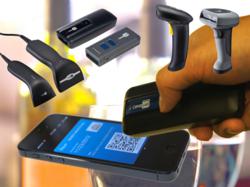 I can scan the coupon barcode and reward card barcode on my customer's iPhone with the CipherLab Barcode Scanner.
Plano, TX (PRWEB) November 29, 2012
CipherLab, a leading innovator in Automated Identification and Data Capture (AIDC) has announced the scanner products to scan barcodes from the screen of smart devices and personal computers.
To scan barcodes from the LCD screen from laptop and desktop or smart devices such as the iPhone, Android, Blackberry and Windows Phone and tablet, CipherLab provides widely from entry level corded contact barcode scanner to cordless 2D barcode scanner. The form factor includes ergonomic pistol type and "flashlight" type.
CipherLab provide the options on linear imager and 2D imager on 1500 and 1600 series barcode scanner and linear imager on 1000 and 1100 series barcode scanners. CipherLab 1000, 1070, 1105 and 1500 linear imager corded scanner provides fast, easy, and accurate scanning with incredible reliability, low cost, and a 5-year warranty (1070 is 3-year warranty) add up to real value. The 1504 corded 2D scanner combines versatility with speed and efficiency for a wide range of applications. Supporting both 1D and 2D barcodes, the 1504 reads high density 1D barcodes as small as 3 mil and 2D barcodes commonly printed on medicine packaging.
For cordless barcode scanners, the 1660, 1661, 1560 and 1166 Bluetooth® wireless scanners provide freedom to the users with reading linear barcode capability. The 1564 and 1664 cordless 2D barcode scanners are able to read high density 1D barcodes at 3 mil resolution and 2D barcodes.
For more details and specifications regarding reading barcode from the screen and CipherLab scanner products, please send an email to NASales(at)cipherlab(dot)com or contact our office at 888-300-9779 by phone.
About CipherLab
CipherLab is a global leader in the design, manufacture, and marketing of Automatic Identification and Data Capture/Collection products and systems. The company's mobile computers and scanners are integrated into the networks of some of the world's best known logistics, retail, distribution, government installations and healthcare companies, helping them run more efficiently and effectively onsite and on the road. Operating worldwide, CipherLab is headquartered in Taipei, Taiwan with offices in China, Germany and the USA, and is publicly traded on the Taiwan stock exchange (Taiwan OTC: 6160).